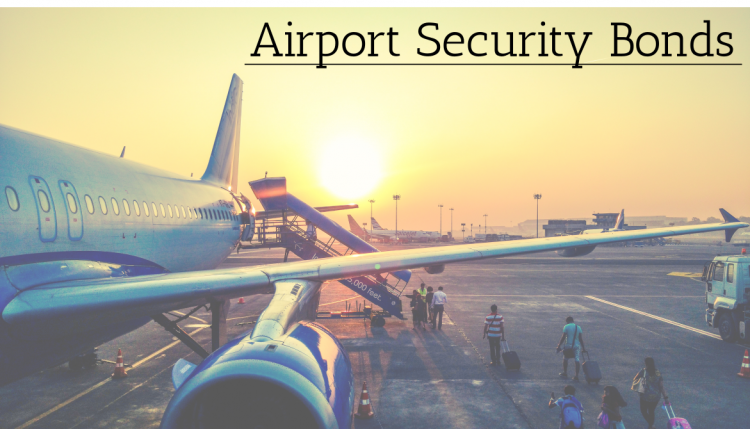 Airport Security Bonds
An Airport Security Bond acts similar to a US Customs Bond, it is needed to operate inside of an airport behind secure lines.
Operating a business working inside an airport is no easy task. On top of increased costs and protocols, an airport security bond and a Customs access seal are both a necessary part of the process.
Customs Access Seal
A Customs Access Seal is required to access CBP security areas for workers to perform their duties behind secure lines. This seal will allow access to Customs security areas. It is a visible identification worn by all employees under the Airport Security Bond.  A Customs Access Seal can be filed with the director of the port and will remain in effect for two years.
What is an Airport Security Bond?
An Airport Security Bond (Activity Code 11) is a financial agreement with Customs that any company operating behind a secure line at an airport and its employees will comply with Customs Regulations within the Customs Security Areas of that airport. If the bond holder breaks any rules or regulations then they must pay liquidated damages.
Customs will also allow a business to operate inside of the Customs Security Area if the business is already in possession of an Activity Code 1 (C1) Importer Bond for importing into the United States.
This bond is a per person bond usually based on a calculation of $1000 per employee with Customs Security Area Access. However, this amount may be adjusted at the discretion of the Port Director at the International Airport where the bond is filed.
Who Needs an Airport Security Bond?
Any private business operating inside an international airport needs an airport security bond. This can include restaurants, bars, and gift shops. Companies operating behind the scenes also need to be bonded, such as janitors, engineers, and general contractors. But even vending machine companies need to purchase a bond in order to operate inside of an airport.
All employees need to understand the regulations of Customs relative to the airport. Businesses operating under an Airport Security Bond will also need to notify the port director of any changes of employment.
How to Place an Airport Security Bond
There are countless sureties with the ability to give issue an Airport Security Bond. TRG is one of those companies and offers over 26 years of experience working with contractors, construction, service, and maintenance companies to provide competitive pricing and peak client experience for their Airport Security Bonds. Our long relationships with top-rated sureties and industry expertise give us the ability to write the bonds that others simply cannot.