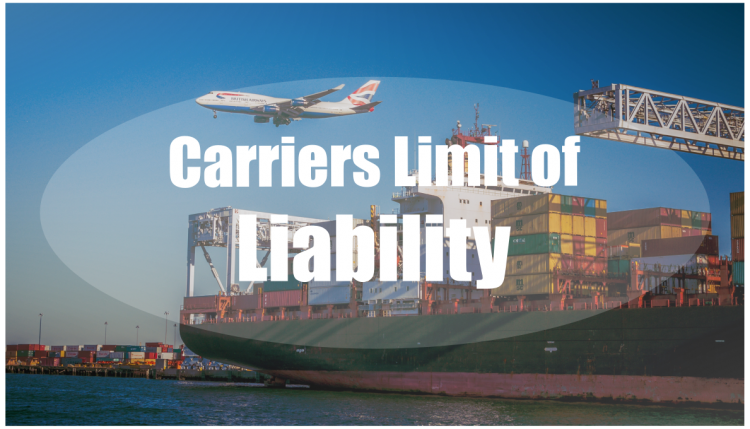 What is Carriers Limit of Liability for International Shipping?
Is your carrier liable for your damaged goods? Learn the details of carriers limit of liability and whether they apply to you.
When shipping internationally, sometimes goods are damaged and lost. In the case of damaged or lost goods, the carrier holds a certain amount of liability for these goods. This is known as the Carriers Limit of Liability.
What is the Carriers Limit of Liability?
The Carriers limit of liability refers to the maximum amount of money for which a carrier is legally liable for loss or damage to cargo.
However, not every type of claim would fall under a Carriers Limit of Liability. For example, carriers are not liable for:
Acts of God (including heavy weather, earthquake, lightning, etc.)
Fire
Acts of war (Including strikes, riots or civil commotions)
Latent defects to the hull or machinery
Criminal acts or negligence by master or crew
Seaworthiness of the vessel
From this list, it is apparent that carriers aren't liable for very much.
How was Carriers Limit of Liability Established?
There are two main acts that protect carriers and limit the amount of money Carriers are liable for: the Warsaw Convention which applies to air travel and the Carriage of Goods by Sea Act (COGSA) which applies to water and sea.
Carriage of Goods by Sea Act (COGSA)
The Carriage of Goods by Sea Act specifically addresses the limitation of liability for those transporting via water and sea. Carriers are only liable from the period when the goods are loaded on the ship to the time when they are discharged from the ship. With COGSA, carriers have a $500 per package limitation and carriers are barred from using a lower amount for damaged or lost goods. This means that a carrier owes $500 for each package that is lost or damaged.
The big question for COGSA is what constitutes a package? Many times, an entire 8' x 8' x 40' shipping container has been considered a package. For non-containerized goods, the U.S. Supreme Court has treated a fully crated 19-ton press as a package and therefore the carrier was only held liable for $500. For containerized goods, unless packaging is specified in the bill of landing, carriers will owe $500 per container.
Warsaw Convention
The limit of liability for air travel is focused on in the Warsaw Convention. The Warsaw Convention sets a specific limit of liability for carriers of international air cargo. In 2009, the carriers limit of liability was $23/kg for international air cargo.
The following is a quick chart of the amounts Carriers are liable for in the various modes of international shipping:
| | | |
| --- | --- | --- |
| International Air Carrier | Domestic Air Carrier | Ocean Carrier |
| $20/kg per Warsaw Convention | $1.10/kg | $500/package (this is often per container) |
| 17 Special Drawing Right (SDR)/kg under Warsaw Convention amended by Montreal Protocol No. 4 | | |
| 19 SDR/kg under Montreal Convention 1999 | | |
| 19 SDR/kg for all carriage to or from the United States | | |
What is Special Drawing Right (SDR)?
Special Drawing Right is an International reserve asset created to supplement official reserves. For more information, check out the International Monetary Fund's fact sheet on SDRs or their video explaining them.
How to Protect Your Business
From above, it is clear that carriers aren't liable for much and when they are held liable, they typically owe minuscule amounts. Some high-end carriers will contract for more liability, but for the most part, carriers aren't liable for much. In order to fully protect your goods, cargo insurance is the best option. Cargo insurance is sometimes required with purchases or bank loans, but if not, it is still the best option to protect your goods.