At the end of 2022, there was a significant drop in shipping container rates to the point that they are back to pre-pandemic levels. But what should your business do now?
The shipping container market has been experiencing a drop in rates in recent months, creating both a challenge and an opportunity for businesses that ship internationally. The decrease in shipping container rates can be attributed to a number of factors; including a global surplus of containers, increased competition within the industry, and a collapse in the demand for containerized cargo due to the international pandemic.
As these factors continue to put pressure on the market, businesses can begin to take advantage of the reduced cost of shipping containers to make their transportation and distribution operations more efficient and cost-effective.
The Current State of Shipping Container Rates
The cost of shipping containers has been decreasing back to pre-pandemic prices over the course of the second half of 2022.​ As of February 2023, the cost of shipping a 40-foot container from China to America's west coast is now $1,400. That is down 93% from its peak of $20,600 in September 2021.​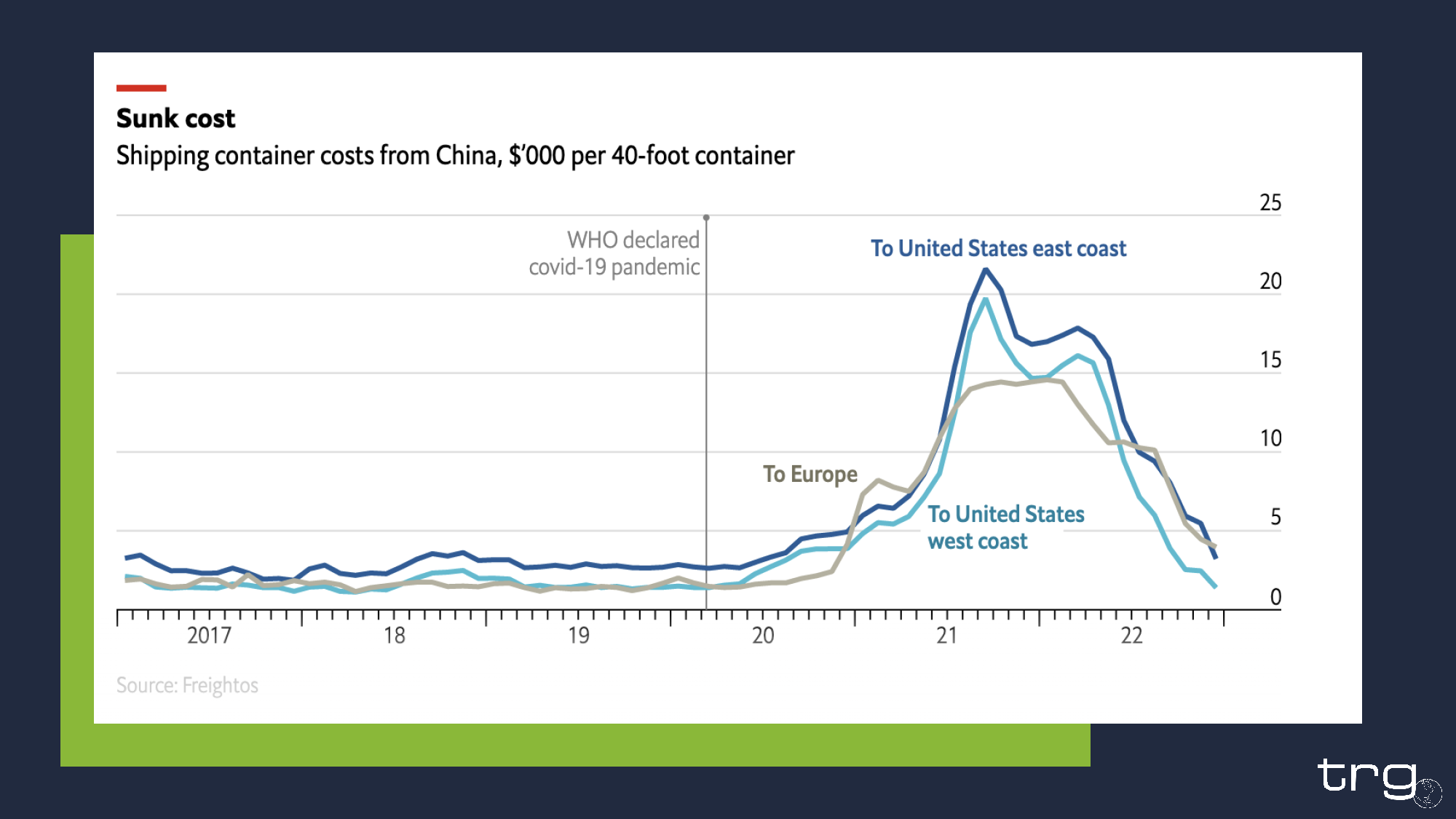 What Your Business Should Do With the Decrease in Rates
To make the most of this price drop, businesses should take time to evaluate their current shipping needs and compare rates across different carriers. Therefore, the number one thing businesses need to do is research their options to find the best shipping container rates and ensure that they are getting the most value for their money.
Shop Your Shipping Container Rates
The market is shifting in the shipper's favor and service providers are having to be more competitive. This means that the shipper can once again shop their rates when it comes to container pricing.​ Companies should compare different logistics providers and assess the cost of their services.
Renegotiate Your Contract Midterm
Since ocean carriers move the majority of their volumes on contracts, there has been a lag on these lower rates taking full effect on the market.​ While falling spot rates will eventually bring contract rates down across the industry, there will be a lag as businesses wait for their contract to up for renewal.

However, Shippers can renegotiate their existing terms mid-contract​. The drastic drop in rates can be seen as reason enough for your logistics provider to discuss a midterm change in your contract.

Consider Other Factors In Shipping Costs
As the market shifts back in the shipper's favor, businesses can once again take the time to consider all the factors that contribute to the costs of shipping, such as delivery speed, insurance coverage, and new technology in the logistics industry. For example, digital shipping platforms that are now available can make it easier to compare rates, book shipments, and track cargo in real-time.

And when it comes to cargo insurance, it is important to ensure that your business is fully protected from a loss. The best way to do this is with an annual, all-risk policy from a trusted insurance provider.

Watch TRG's 2023 Q1 International Trade Update

Watch TRG's webinar for an update on the international trade industry throughout the first quarter of 2023.

To be notified as soon as a new video is released, subscribe to our YouTube Channel.