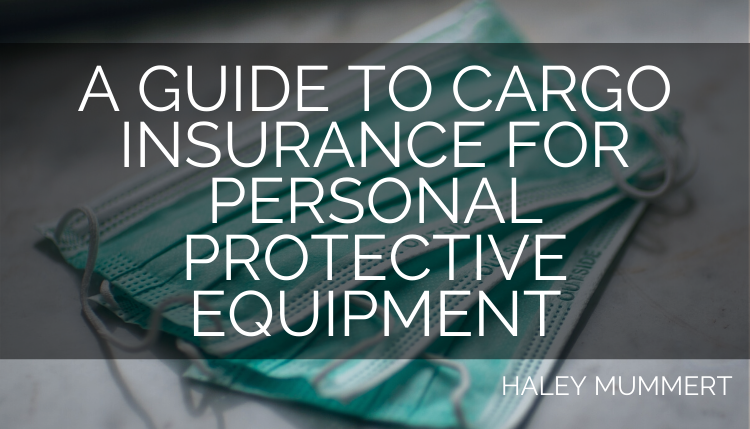 A Guide to Cargo Insurance for Personal Protective Equipment
Demand for personal protective equipment (PPE) has surged globally for general consumers and medical professionals alike. Many personal protective equipment suppliers are increasing the number and size of their shipments to meet demand.
Typically not considered a high-risk commodity, current demand has made Personal Protective Equipment a target for pilfering, organized crime theft, and scams leading to non-delivery claims. Because of these issues, it has become more critical than ever to provide underwriters with detailed information to provide the best possible marine cargo insurance quote.
Importers currently moving to import Personal Protective Equipment will likely face obstacles when securing a marine cargo insurance policy. This is due to the hardening market, in which insurance companies are limited in their capacity to cover at-risk shipments, such as PPE.
In a hard market, premiums increase, and insurers can choose who and what they are comfortable insuring. Currently, there is less supply and a high demand for cargo insurance. We have been heading toward a hard market for a few years due to recent disasters such as Hurricane Harvey and the California wildfires. As a result, insurers faced significant losses and have to make up for them before they can increase their capacity.
Securing a Marine Cargo Insurance Policy for Personal Protective Equipment Imports
Marine cargo insurance covers the loss, damage, or theft of commodities while in transit, and there are different types of marine cargo insurance coverage to fit any importer's needs. One of the benefits of all-risk cargo insurance is while your goods are in transit, the maximum financial loss is limited to your deductible.
The Importance of Quality Information
There are many ways that Importers can better prepare to secure a cargo insurance policy for their goods. One of the most critical things importers can do is provide quality information to underwriting. By offering more details, importers are setting themselves up for the best possible premium. If your insurer knows the details of what you're doing and it's clear you know what you're doing, you will get a better rate.
Importers must gather quality information about their suppliers and specific information about the Personal Protective Equipment items they intend to import. This will help the importer provide the best possible information to the underwriter preparing the quote.
More Relevant Detail = Lower Premium
When discussing your business with an underwriter, they will want to know all of the essential details so that they accurately depict the risks involved. Importers should want to be going through an agency that asks numerous questions to allow them to paint a detailed picture of their business. Providing more detail can possibly help importers receive a better quote since the insurers will accurately be able to evaluate risk. Before talking to an underwriter, importers can prepare by anticipating the following topics to come up in the conversation:
Be prepared to describe your experience with shipping PPE specifically.
Prepare to tell the underwriter if you are working with new suppliers or suppliers that you have worked with before. Underwriters will want to know if your PPE manufacturer is qualified to be doing so.
Be able to describe your vetting process for new suppliers. Assuring underwriters that you have a process in place to vet out fraudulent manufacturers is crucial for getting a better quote.
Confirm that your supplier and manufacturer is registered with the FDA. Do this before talking to an underwriter.
Be able to describe what kind of loading report you receive from your supplier/vendor (Ex: photos, videos, or tally sheets).
Prepare to tell the underwriter about load & stow or quality & quantity inspections completed before your shipments.
Be able to describe how the outer packaging marked in respect of contents. Removing indicating marks reduces the risk of theft in transit.
Be able to describe how you are planning to arrange large shipments that would not fit in typical shipments. Having a plan in place for large shipments shows preparedness.
Prepare to tell the underwriter if you are a charity, or are donating to charities or care professionals.
Factors That Might Make Underwriting Ask More Questions
Lack of experience with the commodity
Different types of cargo need different types of handling. Especially if the shipper is not used to shipping a high-risk item, they may not know of particular precautions to implement.
New suppliers and/or trade routes
Importers may not have the same quality controls in place with new suppliers. If importers and suppliers don't have a prior relationship, things are more likely to go awry. Different regions have different conventions and expectations.
Significant fluctuation in volume or limit needs
Volatility makes it hard to analyze data, and therefore the insurance company will be exposed to more risk than is being charged for in premium. Uncertainty generally leads to higher rates for marine cargo insurance.
Substantial limits in proportion to the volume or average conveyance value
Risk becomes concentrated when shipments have high value, like putting all eggs in one basket. One bad event could lead to a tremendous loss.
Propose Adjustments to Coverage to Lower Premium
Depending on the importer's answers to underwriting questions, the importer may have to comply with adjustments to lower their premium they aren't used to seeing such as:
A higher deductible than usual
The requirement of a load & stow survey to be conducted on all shipments of specified dollar value or more
Coverage only being applied once the cargo is loaded onto the ship in the port of origin
Exclusion of theft from the policy (other than following forcible and violent entry to the container)
Keep in mind that complying with recommendations from underwriting comes at the importer's expense.
What Importers Can Do to the Mitigate Risk of Importing
Showing initiative to mitigate risk increases the chances of being considered for a marine cargo insurance policy. Specific things that importers can do to lower their risk of loss are:
Educate the supply chain staff.
Assure that they know how to identify and avoid cargo theft and damage risks. Not everyone will automatically know what to look for.
Conduct audits and business reviews with your supply chain partners.
Stay informed about changes in your PPE supplier's processes and leadership, and try to take a tour of the operation.
Remove identifying marks.
Removing the identifying marks from the outer packaging of PPE items is vital for avoiding theft since PPE is considered high-risk for theft.
Determine the concentration of risk.
Determine how much risk is involved in individual PPE shipments and consider distributing products across several loads, carriers, or modes of transport.
Monitor and expedite shipping times and use direct shipping routes.
Use visibility software to determine where your Personal Protective Equipment cargo is at all times.
Pack loads at secure facilities.
75% of U.S. cargo thefts in 2017 took place within unsecured parking areas.