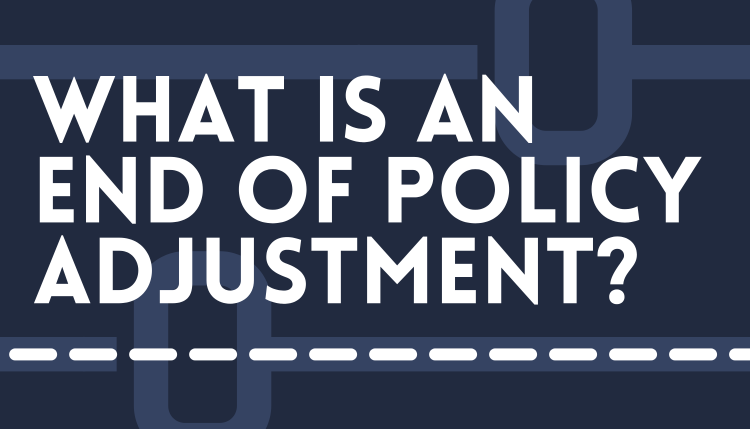 What is an End of Policy Adjustment?
When your policy expires, your marine cargo insurance provider will review the estimated shipping amount you initially provided compared to the actual volume of cargo you shipped through the year. Then, they will likely make an adjustment to your policy based on the difference between your estimated and actual shipping amounts.
What is an End of Policy Adjustment?
When you get a marine cargo insurance policy, you are insured based upon an estimated shipping amount that you provide when getting a quote. At the end of the policy, the actual amount you shipped is reviewed, leading to a policy adjustment.
An end of policy (EOP) adjustment can also be called an:
Audit
True-up
Premium adjustment
In the premium section of a quote, the premium shown is a deposit based on a company's estimated annual values they put on their application. It is essential to know the estimated volume because it tells us if the deposit premium was assessed at 100% of the estimated premium or below. Their marine cargo insurance provider will complete an audit after the policy expires to determine whether an additional premium was earned based upon the company's actual annual values.
On top of the annual values, valuation and rate also affect the adjustment. It is essential to know the valuation because it affects whether an uplift is applied to the reported volume since that's how much coverage a company was actually given.
How is the End of Policy Adjustment Calculated?
Four values go into determining a premium adjustment:
The total value of cargo that was insured
Valuation
Rate
Deposit paid
With these four values, we can then calculate excess premium due using this formula:
Total insured value * Valuation * (Rate/$100) – Deposit Paid = Excess Premium Due
EOP Adjustments with Trade Risk Guaranty
Typically, Trade Risk Guaranty intentionally writes the deposit premium at less than what we think the policyholder will actually owe in case they ship less than estimated. Since the deposit is non-refundable, we want our clients to use up all of the deposit premium, so they aren't leaving any money on the table.
One of the most critical items on a cargo quote is the rate, but it can be easy to skip over and focus on the total cost. Some insurers will quote a low M&D and higher rate to make a policy look cheaper than it actually is. If the M&D is written at 100% of the estimated earned premium, it's likely due to other terms/conditions on the quote or the nature of the commodity. The beauty of an adjustable policy is that a client can pay for what they're insured for but have a competitive, locked-in rate from the beginning.
How to Report Actual Shipping Volumes for Your EOP Adjustment
The actual volume report does not have to be formal. Clients can simply email their final figures or use the TRG Cargo Reporting Form. This template is available to all customers and can make tracking and reporting their expenses significantly more effortless in the long run. Clients can also use their own report templates that indicate a total volume for all reportable costs.
Insurers typically request the final volume report be submitted within 30 days of the policy's expiration date.