Looking over the import data on steel mill products can help illuminate the impact global events have had on the steel industry throughout 2021 and 2022.
The history of importing steel into the United States is filled with wide-sweeping policies, national security concerns, and government regulations dating all the way back to 1902, when the US imposed duties on imported steel from Belgium. Within the last few years, the industry has been affected by Section 232 tariffs implemented in 2018, the COVID 19 pandemic in 2020, and Russia's invasion of Ukraine in 2022. We can begin to see the impact these global events have had on the industry by looking at the import data on steel mill products.
Why Steel Mill Products?
For those that are less familiar with the steel industry, we are looking at the import data on steel mill products because these are often the products produced in the first stage of a finished steel products production. Steel mills produce a range of products that can be classified into general four categories: flat, long, pipe and tube, and semifinished.
Flat Products
This includes products like hot-rolled and cold-rolled steel sheets and strips. While hot-rolled flat steel is the primary product made by U.S. steel mills, processors will typically further process the steel into products usable by the construction, machinery manufacturing, and automotive industries.
Long Products
This includes reinforcing steel bars, rails, rods, and beams. Steel bars are frequently used as tension devices in reinforced concrete and other masonry structures. Steel bar consumption is closely linked to demand from residential and nonresidential construction.
Pipe and Tube
This category is either seamless or welded pipe and tube. These products are most commonly used in construction and energy sectors.
Semifinished Products
This includes the intermediate solid forms of molten steel, to be reheated and further forged, rolled, shaped, or otherwise worked into finished steel products including: blooms, billets, slabs, ingots, and steel for castings.
The Import Data on Steel Mill Products: 2021 vs 2022
The following is a graph comparing the amount of steel mill products imported into the United States broken down by country of origin. The graph compares the amount that was imported from each country over the course of 2021 and 2022. The following are a couple of takeaways we can see from this data:
An 11.4% increase in steel mill products imported from Mexico
There has been a swift increase in production of steel mill products manufactured within Mexico and an increase in U.S. importers looking to diversify their supply chain while exploring the idea of friendshoring.
A 71.5% decrease in steel mill products imported from Russia
The primary cause for this change is Russia's invasion and continued occupation of Ukraine. There will most likely continue to be a move away from importing Russian steel into the U.S. throughout 2023 as more regulations and potential sanctions are put in place
A 41.2% decrease in steel mill products imported from Brazil
This is most likely due to quota that was put in place on steel imported into the U.S. from Brazil back in 2018. While Brazil has attempted to lower the tariff rates on the steel they export into the U.S., the country has increased the amount of steel exported into Europe amid the war in Ukraine.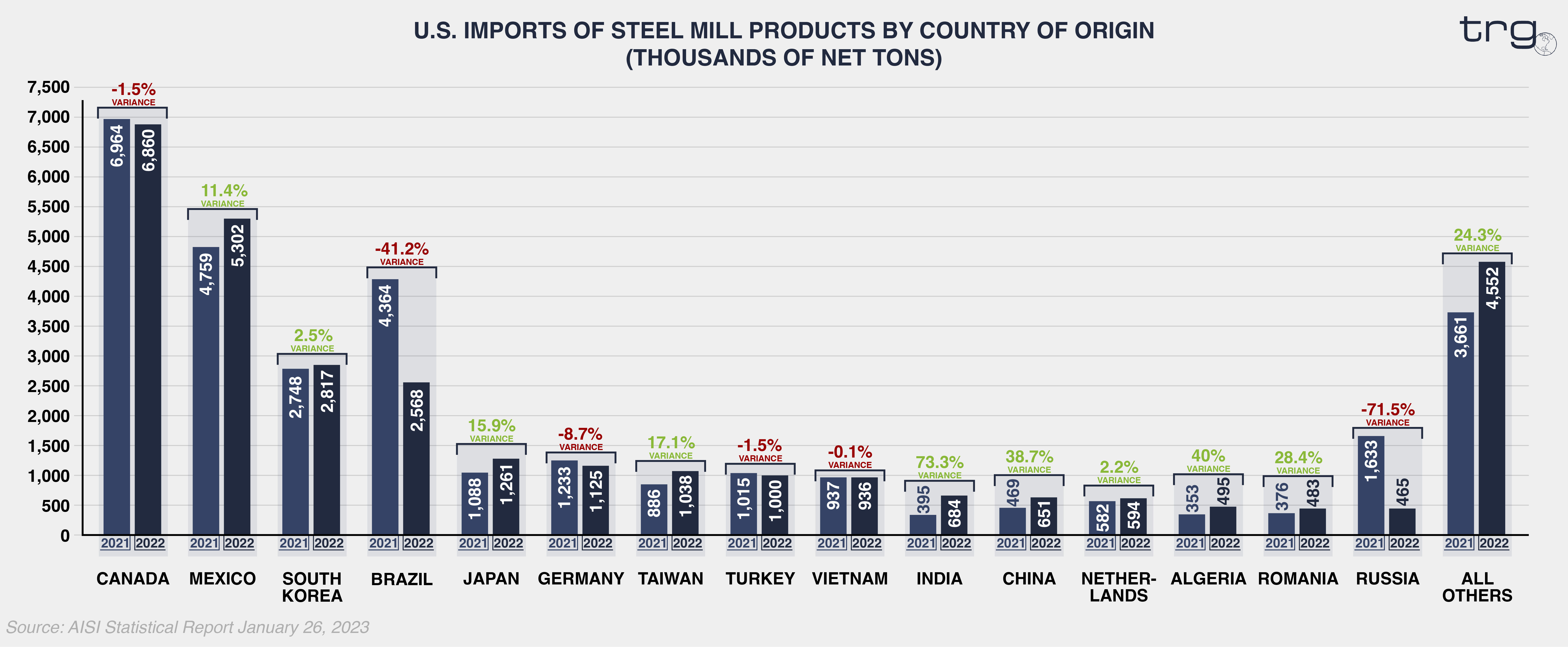 Other Factors That Have Impacted the Importation of Steel into the U.S.
Rather than diving into the cause and effect of the data above, the following are a few global factors that are impacting the amount of steel mill products imported into the United States:
Section 232 Tariffs
The continued enforcement of the Section 232 tariffs on steel and aluminum imports continues to impact the steel imports from many countries around the world. While the impart community continues to put pressure on the current administration to end these tariffs, the steel industry is still considered a matter of national security
COVID-19 Pandemic
Between March and April of 2020, several steel blast furnaces, wrought aluminum mills, and secondary aluminum smelters reduced production or were temporarily idled due to decreased demand and safety measures put in place for workers. Although these shut downs typically only lasted a few months, both the steel and aluminum industries saw longer-term impacts from the supply chain issues and demand shifts that followed.
Russia's Invasion of Ukraine
As was touched on before, the conflict in Ukraine has had a major impact on the steel industry. Russia and Ukraine are significant producers of steel inputs and steel mill products so the conflict has created uncertainty for U.S. purchasers of such products.
Antidumping and Countervailing Duty Investigations
Steel products have been the subject of many antidumping and countervailing duty investigations in recent years. Since 2016 alone, 142 antidumping and countervailing orders have been imposed on steel mill products from 34 countries. This is in addition to several more steel orders imposed before 2016 that have been continued.
Contact a TRG expert to discuss your options for securing a U.S. Customs Bond for your antidumping/countervailing entries.