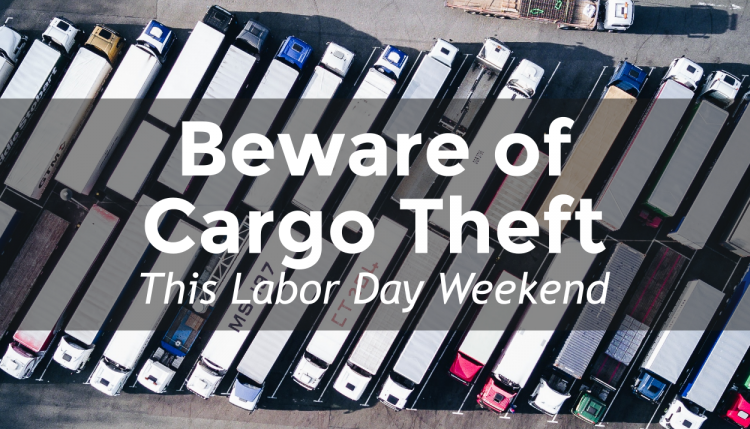 Labor Day Weekend Brings an Increased in Cargo Theft Activity
Although the risk of cargo theft is present throughout any supply chain during any time of the year, there is a marked increase around the Labor Day holiday weekend.

Everybody loves a holiday weekend, unfortunately for us, so do thieves. In fact, historically, holiday weekends come with an increase in the amount of cargo theft experienced throughout the international trade community. Transportation companies, shippers, and manufacturers are all susceptible to this rise in criminal activity since theft rings understand that holiday weekends mean more shipments are left unattended for extended periods of time.
This upcoming holiday weekend means that now is the time to get prepared for the rise in cargo theft. In 2016, a total of 14 cargo theft incidents, totaling in excess of US $2.5M, were recorded on Labor Day weekend. And this has been the trend over the last few years. In order to help you get prepared, TRG has researched some tips on how to protect yourself and how a marine cargo insurance policy may help ease the stress of the holiday weekend.
Noteworthy Cases of Labor Day Cargo Theft
Throughout the past few years, there have been many instances of cargo theft of high-value commodities. The following are some of the more noteworthy cases:
2012 : Georgia – Pilferage of Pharmaceuticals $273,000
2013 : California – Theft of Full Truckload of Televisions $680,000
2013 : California – Fictitious Pickup of Apparel $500,000
2014 : Florida – Theft of Full Truckload of Seafood $250,000
2014 : Tennessee – Facility Theft of Cell Phones $1.5M
2015 : Florida – Facility Theft of Personal Care items $100,000
2015 : Florida – Pilferage of Pharmaceuticals $225,000
2016 : California – Facility Theft of Sporting Goods $1.5M
2016 : California – Theft of Full Truckload of Cell Phones $300,000
Tips to Prevent Cargo Theft
To help you prevent cargo theft, we have assembled a list of some tips from expert sources in the industry on precautions to take to protect your goods while they are in transit.
Make sure your supply chain is properly prepared for the upcoming holiday weekend. https://t.co/7v3dVQkZjC

— Trade Risk Guaranty (@TRG_Bond) August 29, 2017
The importance of Marine Cargo Insurance
In the event that your cargo is lost or stolen in transit, having a marine cargo insurance policy can help to recover the lost. Marine Insurance will protect your overall investment in the goods you have imported into the United States since most all-risk policies include coverage for water damage and the cost to destroy damaged goods. Although you should always double check with your insurance provider to ensure you are covered.