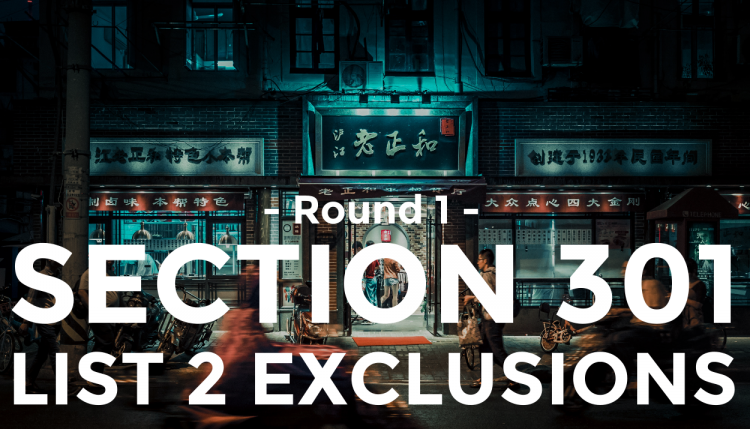 Round 1 List 2 Exclusions Granted: Section 301
The U.S.T.R. announced the first round of Section 301 List 2 exclusions granted. These items will be excluded from the 25% tariff imposed on August 23, 2018.
On July 31, 2019, the United States Trade Representative released an official announcement to the Federal Register with the first round of exclusions to List 2 of the Section 301 tariffs on goods from China.
These exclusions are effective for goods entered for consumption, or withdrawn from warehouse for consumption, on or after 12:01 a.m. eastern daylight time on July 31, 2019. Therefore, the exclusion will be retroactive to Aug. 23, 2018 and remain in place for one year after the date of publication in the Federal Register of the exclusion determination.
These Section 301 exclusions must be claimed using the new HTSUS subheading 9903.88.12. And are available for any product that fits the product description regardless of if the importer was the one to file the exclusion.
What is Included in the Section 301 List 2 Exclusions Granted in Round 1?
The first round of List 2 exclusions granted includes 69 goods excluded from the 25% tariff rate. These exclusions cover specially prepared product descriptions (described in the corresponding statistical reporting numbers) that reflect 292 separate exclusion requests:
Chlorinated polyethylene elastomer (HTSUS 3901.90.1000)
Polytetrafluoroethylene (HTSUS 3904.61.0090)
Expandable plastic beads consisting of copolymers of methylmethacrylate and styrene (HTSUS 3906.90.2000)
Polyol blends containing 92 percent or more by weight of polyether polyol and 2.5 percent or more by weight of N,N-dimethylcyclohexamine (HTSUS 3907.20.0000)
Hot melt flat shapes of biaxially-oriented polypropylene film with an acrylic emulsion (HTSUS 3919.90.5060)
Polyethylene film coated on one side with solvent acrylic adhesive, clear or in transparent colors, whether or not printed, in rolls (HTSUS 3919.90.5060)
Polyvinyl chloride film, coated on one side with pressure-sensitive solvent-acrylic adhesive that allows for easy removal from a flat glass or flat, rigid, clear plastic surface (HTSUS 3919.90.5060)
Printed rectangular polyethylene sheets depicting images on one side, with self-adhesive edges protected with peel-off liners on the other side (HTSUS 3919.90.5060)
Self-adhesive colored or printed polyvinyl chloride film with a peelable liner, in rolls, of a kind used for lining shelves or drawers (HTSUS 3919.90.5060)
Printed, non-permeable plastic film of ethylene designed for use in packaging personal care products such as baby wipes, adult wipes, and similar wet stack products (HTSUS 3920.10.0000)
Polyethylene film of a kind used for wrapping perishable foods, with a starter edge tab, put up in retail packages incorporating a built-in slide cutter and grip strip for holding the film in place until subsequent use (HTSUS 3920.10.0000)
Rectangular sheets of high-density or low-density polyethylene, with a sticker attached to mark the center of each sheet, of a kind used in hospital or surgery center operating rooms (HTSUS 3920.10.0000)
Spark-ignition rotary or reciprocating internal combustion piston engines to be installed in agricultural or horticultural machinery or equipment (HTSUS 8407.90.1020)
Gasoline or liquid propane engines having a displacement of more than 2 but not more than 2.5 liters (HTSUS 8407.90.9010)
Spark-ignition internal combustion piston engines with an engine displacement of not more than 430 cc (HTSUS 8407.90.9040)
Heat guns, heated tissue preparation microscope slide flattening tables, and tissue sample paraffin floatation baths (HTSUS 8419.89.9585)
Air amplifiers powered solely by an external source of compressed air (HTSUS 8424.89.9000)
Apparatus capable of generating and projecting liquid particles of a size that simulates haze, fog, or snow (HTSUS 8424.89.9000)
Apparatus capable of mechanically generating and projecting bubbles from a liquid source (HTSUS 8424.89.9000)
Aroma-spraying sets that include a battery-powered aerosol apparatus and a glass bottle containing essential oil solution (HTSUS 8424.89.9000)
Collars of a size suitable for dogs or cats that are fitted with a means to provide a stimulus by means of a sprayer (HTSUS 8424.89.9000)
Dispensers of hand-cleaning or hand-sanitizing solutions, whether employing a manual pump or a proximity-detecting battery-operated pump (HTSUS 8424.89.9000)
Oral irrigators (dental water-jet machines) (HTSUS 8424.89.9000)
Parts washers consisting of a steel basin, steel drain plug, support legs, and shelf, etc. (HTSUS 8424.89.9000)
Rotary surface washers with one or more rotating brushes (HTSUS 8424.89.9000)
Wet- and dry-diffusion apparatus fitted for incorporation into scent-releasing machines (HTSUS 8424.89.9000)
Walk-behind rotary tillers, electric powered (HTSUS 8432.29.0060)
Fertilizer distributors (HTSUS 8432.42.0000)
Benchtop drill presses (HTSUS 8465.95.0055)
Bearing housings (HTSUS 8483.30.8020)
AC motors with attached actuators, crankshafts, or gears (HTSUS 8501.10.6020)
C-frame 2-pole AC electric motors (HTSUS 8501.10.6020)
Electric motors (HTSUS 8501.10.6080)
Amorphous silicon solar chargers (HTSUS 8501.31.8010)
Electric motors (HTSUS 8501.52.4000)
Armature shafts for electric motors of heading 8501 (HTSUS 8503.00.9520)
Windshield wiper motor covers and shafts (HTSUS 8503.00.9520)
Leakage current detection and interruption cords (HTSUS 8536.30.8000)
Control boards for stoves, ranges, and ovens (HTSUS 8537.10.3000)
Zener diodes (HTSUS 8541.10.0050)
Position or speed sensors for motor vehicle transmission systems (HTSUS 8543.70.4500)
Wheel speed sensors for anti-lock motor vehicle braking systems (HTSUS 8543.70.4500)
Antenna amplifiers and antenna noise suppressors (HTSUS 8543.70.9960)
Apparatus using passive infrared detection sensors designed for turning lights on and off (HTSUS 8543.70.9960)
Audio controllers and audio mixers (HTSUS 8543.70.9960)
Devices incorporating sensors and monitors for identifying encoded television and radio signal information of survey participants (HTSUS 8543.70.9960)
Electrically powered cat noise control devices; pet combs; dog training, controlling, repelling, or locating apparatus; and insect control apparatus (HTSUS 8543.70.9960)
Electrically powered static-emitting plastic strips designed for use in training or controlling pets (HTSUS 8543.70.9960)
LED lamps for flash curing nail polish (HTSUS 8543.70.9960)
Liquid leak detectors (HTSUS 8543.70.9960)
Multiple device remote controls (HTSUS 8543.70.9960)
Programmable robots incorporating an LCD display, camera, and microphone (HTSUS 8543.70.9960)
Couplers, knuckles, and yokes and parts thereof for vehicles of heading 8605 or 8606 (HTSUS 8607.30.1000)
Motorcycles with reciprocating internal combustion piston engine of a cylinder capacity not exceeding 50 cc (HTSUS 8711.10.0000)
Polarizing film, of triacetate, with a pressure-sensitive adhesive backing (HTSUS 9001.20.0000)
Digital clinical thermometers (HTSUS 9025.19.8040)
Cooking thermometers, including candy and deep-fry thermometers, and infrared thermometers (HTSUS 9025.19.8080)
Combined thermometer and hygrometer devices (HTSUS 9025.80.1000)
Pulse output gas meters of a kind that can be read remotely (HTSUS 9028.10.0000)
Pulse output water meters of cast stainless steel (HTSUS 9028.20.0000)
Fingertip pulse oximeters (HTSUS 9029.20.4080)
To see a full list of the HTSUS codes from all the list that have been granted an exclusion in all rounds, view this PDF from Trade Risk Guaranty.