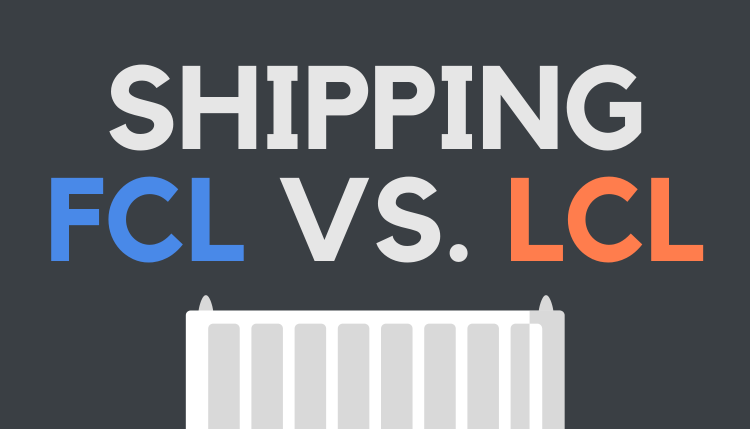 Shipping FCL vs. LCL
There are two options for container shipping. Shippers can choose to ship in a private, separate container or share a container with other shippers. Both of these options have advantages depending on the situation.
Shippers have two options: shipping a full container load (FCL) or a less than container load (LCL). There are pros and cons to each shipping method.
Full Container Load (FCL)
An FCL shipment, or full container shipment, is a shipment container dedicated to one company so that it is not shared with other merchandise. As long as no other company has goods in that container, it's an FCL.
Advantages of FCL
FCL is generally safer than LCL. FCL shipments tend to be more secure because they have exclusive rights to the entire container. That shipment is not in contact with cargo from other shippers and isn't at risk of damage or contamination from other merchandise. There is also less handling of the goods, which decreases the chance of theft and damage.
FCL gets delivered faster than LCL. When an FCL shipment arrives at a port, it's unloaded from the vessel and delivered to the buyer. LCL requires additional steps like consolidating different shipments, processing multiple documents per container, and sorting goods for each shipper. There is potential for delay at each additional step.
FCL can be cheaper than LCL. FCL shipments tend to be more affordable when the shipment uses more than ten standard pallets. This will vary depending on where goods are being shipped from and the current freight market. Those shipping FCL will pay a flat fee for the entire container instead of paying for the amount of space used.
FCL is best for shipments with a due date. FCL is the better option for urgent shipments or shipments that need to arrive before a fixed date. LCL is better for shipments with flexible dates.
Less than Container Load (LCL)
An LCL shipment, or less than container load shipment, is a shipment shipped alongside other merchandise from other shippers in the same container. If more than one company owns goods in the container, it is an LCL shipment.
Advantages of LCL
LCL is better for those who ship in small quantities. Shippers that don't have enough cargo to fill up an entire container should consider shipping LCL. Low-volume shipments are packed compactly, which leaves little room for movement.
LCL is cheaper to ship in small quantities. Although more expensive per cubic meter, the majority of LCL shipments take up 2% of the space in a container. Therefore, it's more cost-efficient for smaller shipments because shippers must only pay for the volume they are.
LCL is better for those who want lean inventory. Shippers that don't have the money or space to store a container at their warehouse should use LCL. LCL allows people to ship in smaller volumes and keep a steady inventory flow in smaller quantities.
LCL makes delivery easier. Those using FCL shipping have goods delivered in a container on the back of a huge truck. Since the truckers can't drop the container to the ground for unloading, they have 3 hours to unload the goods from the container. On the other hand, LCL shipments are delivered palletized on the back of a truck. This is easier to unload, and shippers typically have as long as they need to unload the delivery.
LCL is better for shipments with multiple destinations. If a shipment is going to various destinations that are far from each other, LCL might be a better option. It is easier to split up shipments with different destinations when using LCL since the container is sent to a warehouse for sorting. Since LCL shipments can be divided, shippers can use different ports close to where the shipment will be delivered.
LCL is easier to book during busy periods of the year. It may be easier to book an LCL shipment during the peak shipping season than an FCL shipment.