A big perk of being a TRG employee is getting to enjoy the city of Bozeman, Montana, and what surrounds it.
Montana is a state of treasures to be found. The employees of TRG are lucky enough to explore Montana on the regular, and we definitely have found some favorite things to do.
Ski Areas
There are two ski areas within an hour's drive of Bozeman; Bridger Bowl and Big Sky.
Bridger Bowl
Bridger Bowl is a 20-minute drive from downtown Bozeman. It has a great local feeling to it and some pretty intense ski areas. If you have a beacon, you can venture over to the Schlasman's Lift. Don't worry; there are also great mellow blue and green runs for everyone to enjoy. Bridger Bowl is a non-profit ski area, meaning that money collected by the organization goes straight back into its infrastructure and expansion.
Big Sky
Big Sky is a large resort area south of Bozeman known for Lone Peak and the ski area that surrounds it. Daredevils have a lot of options when it comes to skiing Big Sky. However, there is a lot of fun to be had for intermediate and beginner skiers. There are a lot of exciting lines to be found in Big Sky. Not to mention, there are some great places to eat.
Hiking Areas
Anyone who has lived in Montana for long is aware that all it takes is a moment's drive or bike ride to reach a world-class hiking area. Let's start with some that are only a stone's throw from our Bozeman office.
Palisade Falls
Hyalite Canyon is on the outskirts of Bozeman, MT, where Trade Risk Guaranty is based. It is home to an abundance of hiking trails, camping areas, and beautiful panoramic scenery. One of the most effortless hikes and surprisingly most epic hikes in Hyalite is Palisade Falls.
There is a well-manicured path to the falls that is even wheelchair accessible. The slope is gradual, and the brush is cleared in such a way that it's almost like walking through a corridor of splendid natural beauty. By the time you reach the falls (it won't be long, the distance is about 1.2 miles, round trip), you will have been hearing the water crash against the rocks for a while already, and the falls may seem to be a foregone conclusion—until you see them.
Palisade Falls is an amazingly tall natural monument, and the sense of being surrounded by the immensity and power of nature is palpable in its presence. You will feel it as the mist carries across the air.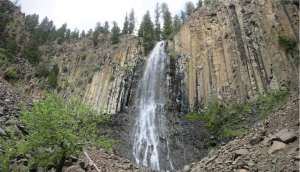 Grotto Falls
Grotto Falls is not known for its immensity. Grotto Falls is peaceful naturally-created seclusion great for enjoying nature. If you want to sit behind a waterfall and watch it fall in front of you, this is the place to do it.
There is a tremendous amount of truth to the legends of Montana winter and the heat of a Montana summer. Many locals flock to Grotto Falls when the temp rises. The distance to Grotto Falls is only 2.5 miles round-trip.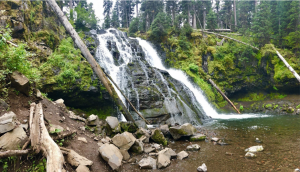 Downtown Bozeman
Downtown Bozeman, where the TRG office is located, is a treasure trove of restaurants, shops, drinks, art, and more. It is impossible not to enjoy what downtown Bozeman has to offer.
Restaurants
When it comes to food and drinks in downtown Bozeman, the options are endless. There is food of all kinds to be found, but there are definitely common favorites among locals.
Breakfast is incredible in Bozeman. Out of all the great places to eat breakfast, one stands out among the rest. Jam is a brunch landmark with electric energy as soon as you walk in. They offer many breakfast concoctions, including crepes, benedicts, scrambles, pancakes, and so much more. They have great coffee and mimosa options as well.
Daves Sushi is another very popular spot for locals. They have some of the freshest sushi around, and the combinations they put together are incredibly delicious. Daves has a very comforting atmosphere, and the staff is very friendly. You will likely have to wait to get a table, but it is well worth it.
Shops
There are many great stores in downtown Bozeman, but if there is one store with something for everyone, it is Schnees. Schnees has a great selection of shoes, outdoor clothing, outdoor accessories, and tactical gear.
Heyday is also a great store that has something for everyone. They carry home goods, decor, kitchen goods, treats, apothecary products, books, jewelry, cosmetics for everyone, and more. It is far too easy to get lost or overspend at Heyday.
National Parks
Yellowstone National Park is not far from Bozeman, only a few hours' drive. It is a great place to spend a weekend adventure with friends and family. You are bound to see a bison or two as well as some one-of-a-kind pools and springs.
Glacier is a bit farther but worth a weekend trip for a Bozeman local. There are beautiful hikes, and "Going to the Sun Road" is a lovely drive to enjoy the dramatic canyon.
Camping
There are some great campsites all over the outskirts of Bozeman. You can find up some of the best at Hyalite canyon. There are streams with picnic tables and fire pits that are great for car camping with family and friends.
If you would rather backpack and camp in the woods, Emerald lake is the place to go. The lake is nestled into Hyalite canyon as well. It is a pretty steep hike to the top, but it is an excellent challenge for a novice backpacker.