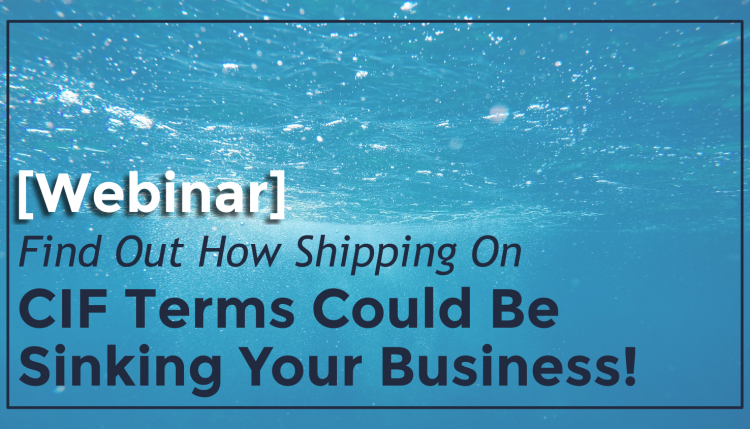 [Webinar] What You Need to Know About Cost, Insurance, Freight (CIF)
In the first webinar of 2017, Tyler Zaichkin explains everything importers need to know about buying their insurance on CIF Terms.
One of the most common methods for businesses to purchase their ocean marine cargo insurance is to purchase it with through their foreign supplier on CIF (Cost, Insurance, and Freight) terms. Although this method may be the simplest way to acquire insurance on your ocean cargo, most businesses do not fully understand CIF and how/if they are truly protected from a loss.
In order to explain this confusing and often misunderstood topic, Trade Risk Guaranty held an in-depth webinar explaining CIF and what a buyer can expect with this type of coverage. This CIF webinar covers the following topics:
For more information of CIF Insurance, check out our previous blog post: "4 Reasons Buying on CIF Terms May Not Protect Your Business".
[Webinar] Discover how shipping on #CIF Terms could be costing your business more: https://t.co/VQq8BfSJnv #internationaltrade #webinar pic.twitter.com/U0NoaNdzWs

— Trade Risk Guaranty (@TRG_Bond) February 7, 2017
Watch the Cost, Insurance, Freight (CIF) Webinar

View the Webinar Slides Below
Read the Full Transcript from the Webinar
CIF Term Insurance Webinar Introduction
What are Terms of Sale / Incoterms?
What is CIF Term Insurance?
The Common Pitfalls of CIF Term Insurance
Example Cost Comparison of Insurance Bought Shipment-by-Shipment VS CIF
Example Cost Comparison of Insurance Bought as an Annual Policy VS CIF
CIF Webinar Conclusion
CIF Webinar Questions and Answers