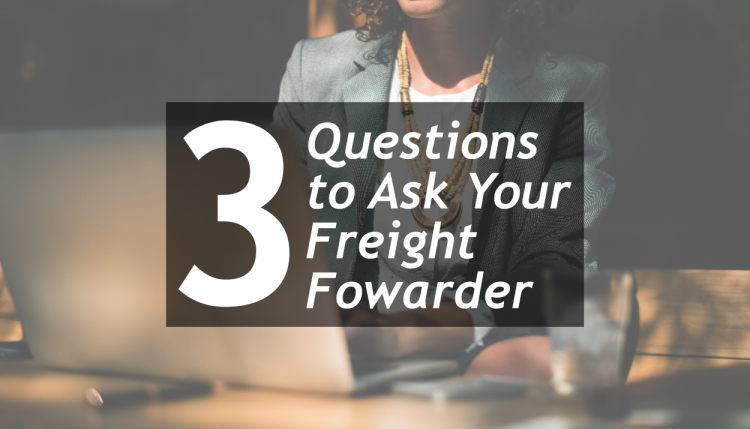 3 Important Questions to Ask Your Freight Forwarder
Hiring a Freight Forwarder for your company is an important decision, but where do you begin? TRG has put together some information to help you get started.
Many companies that import into the United States are left somewhat 'in the dark' when it comes to their import practices. Most put their full trust in their Customs Broker and their Freight Forwarder to guide them through the process. However, many times, the company does not properly vet their selected agent which may lead to dissatisfaction in their services in the future.
What is a Freight Forwarder?
A firm specializing in arranging storage and shipping of merchandise on behalf of its shippers.
A Freight Forwarder can provide a range of services including:
Tracking Inland Transportation
Preparation of Shipping and Export Documents
Warehousing
Booking Cargo Space
Negotiating Freight Charges
Freight Consolidation
Cargo Insurance
Filing of Insurance Claims
Freight forwarders usually ship under their own bills of lading or air waybills (called house bill of lading or house air waybill) and their agents or associates at the destination (overseas freight forwarders) provide document delivery, deconsolidation, and freight collection services.
Also referred to as Forwarders, they are experts in logistics, trade routes, and freight management for either domestic or international shipments. Some classic examples are FedEx, UPS, and DHL. However, since the majority of these transportation arrangements are handled online or over the phone, a company is able to use any Freight Forwarder they prefer regardless of location. So make sure you properly research your chosen Forwarder.
The Top 3 Questions to Ask Your Freight Forwarder
Do they offer the services you require?
First, determine what services you may need and then find out if that Freight Forwarder offers them. In many cases, this can be resolved by checking out their website. However, it never hurts to ask and reassure that what you are looking for is what they offer. Not only will you be able to discern what services they offer from the website, but you'll probably also be able to get a pulse from their customer reviews or testimonials how their service compares to their competitors.
How will they manage your shipments, how will you interact with them?
In general, you want to get a feel for how they handle their Customer Service. Is it more than one person? Who will be your point of contact should an issue arise? Are they easily available in the event of an emergency? Remember these are your goods at risk, so you want to ensure that they'll be available to support you should an issue arise during their contracted segment of the supply chain.
How much experience do they have?
Perhaps my favorite question to ask, which really gets to the heart of the matter. How much experience do they have as a Freight Forwarder or Freight Agent? Have they been doing it for years, months, days? Are they a reputable Freight Forwarder? Again, you can always start with a basic Google search and get a wealth of information including reviews from Customers.
Learn More About Customs Brokers & Freight Forwarders in our Educational Webinar
For more educational videos on International Trade, subscribe to our YouTube Channel.