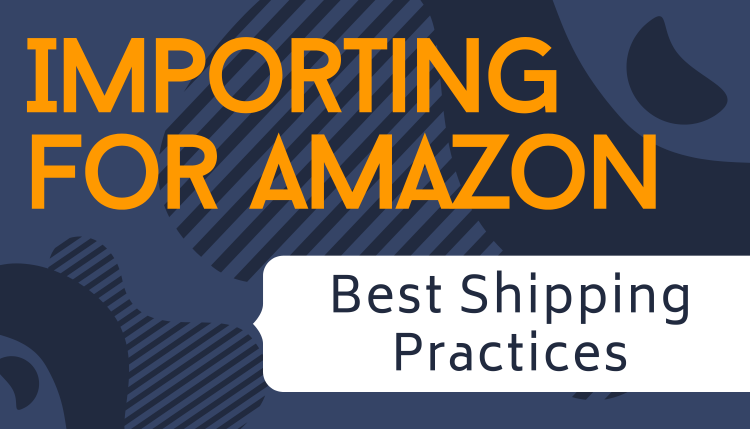 Importing For Amazon: Best Shipping Practices
To successfully and efficiently ship products to Amazon, FBA sellers should follow proper shipping practices. This can help FBA sellers avoid a lot of hassle, including delays, shipment rejections, and more.
Shipping Method
When shipping FBA products to Amazon from another country, FBA sellers must choose how to send products from the supplier to an Amazon destination warehouse. The options available are:
Air Freight
Full Container Load (FCL) Ocean Freight
Less Than Container Load (LCL) Ocean Freight
When choosing between ocean and air freight, FBA importers will need to determine the best method to import their particular product. They must consider how much product they're shipping, how quickly they need it to reach its destination, and how much they're willing to spend to get it there. Using air freight is faster, but significantly more expensive. Ocean freight is cheaper and generally takes between 20-45 days, while air freight usually takes 5-10.
FBA sellers using ocean freight will need to choose between using full container loads or less than container loads. Generally, full container loads are safer than less than container loads. A full container load (FCL) is a shipment container dedicated to one company so that it is not shared with other merchandise. As long as no other company has goods in that container, it's an FCL shipment.
An LCL shipment, or less than container load shipment, is shipped alongside other merchandise from other shippers in the same container. If more than one company owns goods in the container, it is an LCL shipment.
An FCL shipment tends to be more secure because it has exclusive rights to the entire container. That means that it is not in contact with cargo from other shippers —as in the case of LCL shipping— and isn't at risk of damage or contamination from other merchandise.
After the products have been successfully imported, FBA sellers will need to choose the final delivery method for their merchandise, also known as last-mile delivery. The final delivery method is the truck that goods are transported from the destination port to the Amazon fulfillment center. Shipments being split into multiple fulfillment centers can have a different final delivery method selected for each delivery.
For their final delivery method, FBA sellers can choose to ship less-than-truckload (LTL) or small parcel delivery (SPD).
Less-Than-Truckload (LTL) Freight: This method is best for the transportation of products that do not require a full truckload. LTL shipments are usually arranged on pallets and can range anywhere from 150 pounds to 10,000 pounds.
Small Parcel Delivery (SPD): These shipments are usually under 70 lbs and are not sent on pallets. These shipments often move through a small package shipping system through carriers such as UPS or FedEx.
Pallet Requirements
Amazon has strict requirements for palletizing products. Sellers must assure that goods are palletized according to Amazon's specific speculations before shipping. In general, sellers should only ship on wooden pallets that are in good condition. Broken and damaged pallets will not be accepted and may be rejected at the seller's expense.
Note that Amazon will only accept wooden pallets, and wooden pallets must adhere to IPCC regulations. Amazon requests that sellers use 40-inch x 48-inch, 4-way access, wooden pallets. The total weight of the pallet cannot exceed 1,500 lb. FBA sellers cannot ship on pallets made of weak material such as cardboard or particleboard. If a single, large unit cannot fit on a 40″ x 48″ pallet without overhanging the edges, it is acceptable to use a pallet size and type suitable for the unit.
The units placed on each pallet must all belong to one Shipment ID. Sellers should place boxes that are intended to be sold together weighing more than 100 pounds on a single pallet so that there is one saleable unit on each. They can also be clamped together. Sellers should place a single shipping box or unit, such as furniture, weighing more than 100 pounds on its own pallet.
A label or shipment ID must be placed on each box to keep the correct inventory together while it is processed into the fulfillment center. Wrapped pallets need to have shipment labels placed on all four sides and the outside of the stretch-wrap.
Only use standard pallet stacking requirements. Sellers should not bundle shipping boxes using bagging, elastic, or extra straps. All pallets must be wrapped in plastic with a "do not break stretch wrap" or "do not break down" alert to the carrier. The stretch-wrap has to completely hold the product to the pallet to prevent shifting during transit. The use of clear stretch-wrap is preferred.
Pallet requirements are different depending on whether the FBA seller is using the LCL or FCL shipping method.
LCL Shipments
FBA sellers shipping to Amazon using LCL must palletize their shipment. However, sellers can decide whether to palletize at origin or destination. Sellers should palletize at origin only if their cargo is fragile. If sellers choose not to palletize their cargo at the origin, their shipment will be palletized at an Amazon destination warehouse before its final delivery to Amazon.
FCL Shipments
Those shipping FCL to Amazon can either palletize or floor load their cargo. Amazon has strict requirements for palletizing products. Sellers need to be certain goods are palletized according to Amazon's speculations before shipping.
Box Dimensions and Contents
The contents of each box must contain inventory from only one Shipment ID. The shipment ID can be found on the shipment summary page. FBA sellers cannot combine units from multiple shipments in the same box.
The way that boxes are packed and box dimensions must meet Amazon's requirements to be accepted at an Amazon fulfillment center. Some of the basic requirements for box dimensions and packing are as follows:
Boxes containing multiple units can't measure more than 25 inches on any side.
Boxes cannot be bundled together using bagging, taping, elastic, or extra straps.
Boxes must not exceed the standard weight limit of 50 pounds unless they contain one oversized unit that weighs 50 pounds or more. Oversize packages include any unit weighing more than 50 pounds or with dimensions higher than 18 inches on its longest side, 14 inches on its medial side, or 8 inches on its shortest side.

For an oversized unit that exceeds 50 pounds, attach a label that indicates "Team Lift" on the top and sides of the box.
For an oversized unit that exceeds 100 pounds, attach a label that indicates "Mech Lift" on the top and sides of the box.
Those using an Amazon-partnered carrier must weigh and measure boxes and pallets to ensure that the correct values are supplied for each shipment. These dimensions are used to calculate dimensional weight, and extra fees can result if the dimensional weight exceeds the actual weight.
Bill of Lading
For each shipment, FBA sellers must provide a valid bill of lading (BOL) to the carrier to schedule a delivery appointment. A BOL must reference all Amazon Shipment IDs and Reference IDs contained in the shipment. All BOLs that do not meet the requirements will be refused upon delivery. Amazon encourages the standard BOL form so that shipments are easy to identify.
Refused Shipments
When inbound shipments that do not meet Amazon's requirements are sent to Amazon fulfillment centers, they will be rejected. Overage, damage, and mis-ships may be rejected at the dock. Shipments that are damaged or defective may be refused at the dock as well. Refused shipments are generally returned at the shipper's expense.