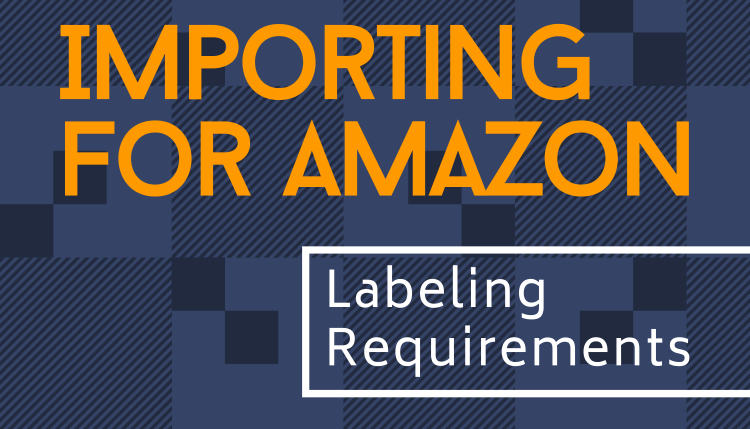 Importing for Amazon: Labeling Requirements
Shippers using the services of Fulfillment By Amazon must follow specific labeling requirements set by Amazon to ensure an efficient and hassle-free shipping process.
FBA Product Labeling Requirements
Each box or pallet that is imported and shipped to Amazon must be correctly identified with appropriate labeling. Shipments to Amazon should have the following types of labels:
FNSKU labels, which are unit-level labels
FBA carton labels, which doubles as the small parcel delivery label
Pallet labels, which are applied at the destination warehouse
FNSKU Labels
Amazon assigns a Fulfillment Network SKU (FNSKU) to a product so that it is unique to the seller. An FNSKU label must be applied to each individual product to be sold, which is required for every product sold on Amazon. However, the manufacturer's barcode can replace the FNSKU if an FBA seller is registered with Amazon.
While FNSKU labels are also unit-level, unit labels are the labels on the actual product that are not considered Amazon FNSKU labels unless the unit label is registered as the FNSKU.
FBA Carton Labels
To ensure an efficient shipment, sellers should send FBA carton labels to their suppliers to label at the origin. Suppliers that don't add Amazon FBA carton labels at the origin MUST mark the cartons with the FNSKU.
Shipments being split into multiple fulfillment centers will have multiple FBA IDs. Each FBA ID will have a different FBA label, so sellers must make sure their supplier labels each carton with the correct FBA label. Labels must be applied at the origin when using the full container load (FCL) shipping method to Amazon.
FBA carton labels are generated by filling out the web form in the Amazon Seller Central Account. Labels should measure 3-⅓ inches x 4 inches. The FBA carton label doubles as the small parcel delivery label. All small parcel delivery boxes must have FBA carton labels that do not include other messaging.
Pallet Labeling requirements
Amazon has specific label requirements for labeling a pallet to be shipped. FBA sellers must apply FBA shipment labels onto each pallet. There should be four labels on each pallet, one on each side and one on the top center. It is essential not to place pallet labels on an angle so that the forklift driver can see them when lifting the pallet. If the pallet is wrapped in plastic, pallet labels must be placed outside of the plastic wrap.
Box Label Placement Requirements
Each box included in a shipment must have its own label printed from the Shipping Queue. The FBA shipment label should be next to the carrier label. It is essential to consistently place shipment labels in a way that is easy to locate. Labels can be placed either on the top or side of the box, but side placement is preferred. Place shipment labels no closer than 1.25 inches from any edge of the box when possible.
Shipment labels cannot be placed on the seam of the box because they can be damaged when the box is opened, making the barcodes unscannable. Those using tape to seal boxes should not cover shipment labels with the tape. The FBA shipment label and the carrier label must remain uncovered so that they are scannable and readable.
Label Font Specifications
The font that is used for labels can help speed up inventory processing at the fulfillment center. FBA sellers should choose a font that clearly distinguishes letters from numbers. FBA sellers should use a font that differentiates a zero from the letter "O." For example, the font could use slashed zeros. The font should also distinguish the number one from a lowercase letter "l" or an uppercase letter "i." Unless otherwise noted, sellers should use the normal font-weight, not bold.
Do's and Don'ts of Labeling
Follow these additional guidelines to ensure prompt and accurate labeling.
Only use white labels with removable adhesive. All shipment labels on the product should be removable by the customer.
Cover any original barcodes. Failure to cover these barcodes can cause errors and may result in lost inventory.
Cover the original manufacturer's barcode, which is either the UPC, EAN, or ISBN.
Be sure the label title is correct for the corresponding unit. This ensures that the products can be received, stocked, and sold.
Those reusing boxes from previous shipments must be sure to remove any other shipping labels or markings.
The following guidelines are things NOT to do when labeling FBA products.
Do not place faded labels on units.
Do not tape labels to units.
Do not wrap labels around corners or curves on the unit. This makes the label unscannable.
Do not leave other barcodes uncovered.
Do not use QR barcodes on labels since all scanners cannot read them.
Do not place labels on a box seam where they will get cut by a box cutter.