Trade Risk Guaranty maps out an infographic of the U.S. – China trade war. Make sure you stay informed with the latest updates on Section 301 tariffs to determine if it affects your business.
Importing into the United States can be a turbulent process for importers, especially if/when importing Chinese products. The on-going trade war between the United States and China has strained importers and their supply chains through the imposition of Section 301 tariffs. On June 20, 2018, it was announced by the U.S. Trade Representative (USTR) that under Section 301 of the Trade Act of 1974, additional 25% tariffs will be imposed to certain products from China that are imported into the United States.
Since then, there has been a constant back-and-forth between the U.S. and China during the trade talks while the two try to reach a trade deal that works for both nations. The first round of tariffs, set at 25%, affected $34 billion worth of products, imported from China, that were included on List 1 and it went into effect on July 6, 2018. China immediately retaliated on that same day by also imposing a 25% tariff on $34 billion worth of products imported from the U.S.
On August 23, 2018, another round of tariffs was imposed against China with List 2 of Section 301. This time it was a smaller dollar amount, $16 billion worth of Chinese imports targetted with a 25% tariff. Again, China retaliated with a second round of additional 25% tariffs on $16 billion worth of U.S. imports.
The U.S. announced the biggest list yet on September 24, 2018. List 3 included $200 billion worth of products imported from China and was initially imposed with a 10% tariff. Then, China retaliated with 25% tariffs affecting $200 billion worth of U.S. imports.
After the three rounds of tariffs between the two countries, trade talks continued with slow progress to a trade deal. However, after months and months of becoming closer to a deal, it was announced that List 3 would increase from 10% tariffs to 25% tariffs instead.
If you are importing from China, these tariffs may have an impact on your bond sufficiency which is important to the importing process.
Click the image for a downloadable PDF.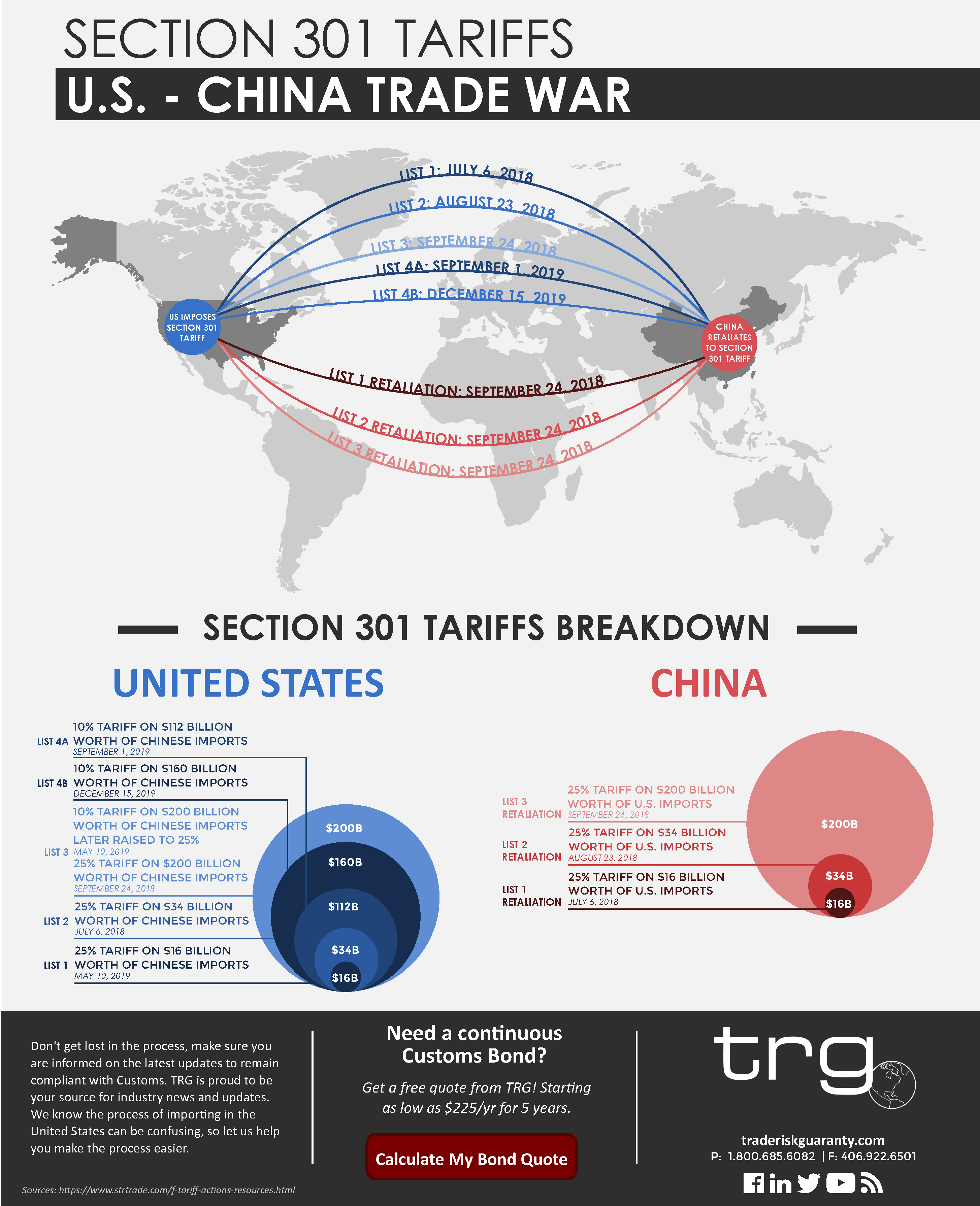 Section 301 Tariffs Breakdown
In the tables below, here is the breakdown of Section 301 and all of the tariffs that have been placed and are in effect. Click the links in the tables to view a complete list of all items in a downloadable PDF.
United States Tariffs on Products from China
Country

List

Measure

Effective Date

United States

List 1

25% Tariff on 818 items

July 6, 2018

List 2

25% Tariff on 279 items

Aug. 23, 2018

List 3

25% Tariff on 6,000+ items

10% Tariff imposed on Sept. 24, 2018

25% Tariff imposed on May 10, 2019
China Retaliatory Actions on Products from the United States
| Country | List | Retaliatory Measure | Effective Date |
| --- | --- | --- | --- |
| China | List 1 | 25% Tariff on 545 items | July 6, 2018 |
| | List 2 | 25% Tariff on 333 items | Aug. 23, 2018 |
| | List 3 | 25% Tariff on 5,207 items | Sept. 24, 2018 |
If you want to learn more about the Section 301 tariffs, subscribe to our YouTube channel, watch the full webinars for a comprehensive look at the trade war with China and what you can do to help prepare your company for potential new tariffs on the way.