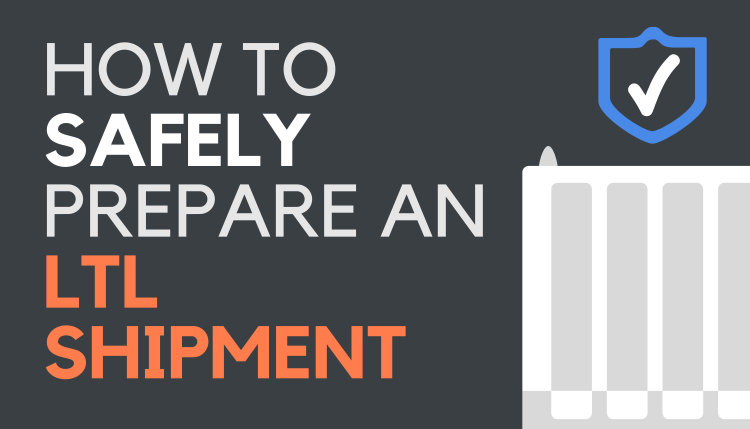 How to Safely Prepare an LTL Shipment
While LTL shipping can be risky, it can be the best option for shippers transporting small quantities of cargo. Shippers should take safety measures to avoid loss or damage.
To avoid delays, freight damage, fees, and other issues that arise, shippers should adequately prepare their less than container load (LTL) shipments. Proper packaging and preparation will set shippers up for a successful LTL shipment process.
Take accurate dimensions of the LTL shipment.
LTL shipment preparation begins with measuring the dimensions. Accurate dimensions are helpful to carriers because they determine how much freight can fit in a container. Ensuring the correct dimensions will help shippers avoid premium increases, optimize the shipping process, and build positive relationships with carriers.
Shippers must calculate the height, width, and length of the shipment and round up to the next inch to provide some leeway when loading begins. This makes it easier for carriers to provide the correct quote and plan how containers will be packed. This also prevents costly readjustments if the dimensions were previously miscalculated.
Have the proper documentation for the LTL shipment.
The most important documentation in the LTL shipping process is the bill of lading (BOL). The BOL should be complete and in the carrier's hands at the time of pickup. The BOL is the receipt for a shipment; drivers and carriers will need it to process the shipment.
On the BOL, shippers must provide:
Their name
The recipient's information
Date of the shipment
Required date of pickup
Total units being shipped
Type of packaging being used
Description of the goods being shipped
Freight class
Dimensions
Value
More information may be needed on the bill of lading, depending on the shipment.
Label the LTL shipment accurately.
Accurate labeling minimizes handling and maximizes efficiency. Shippers must appropriately label each box and pallet in their shipment before pickup. Labels should be clear and easy to read.
It is necessary to place labels consistently. Shippers should label both their pallets and individual boxes in case boxes become separated in transit. Pallet labels should be on the top and sides of each wrapped pallet. Shippers should put labels on the sides and the top of each box, but not over the box's seam. Shippers that are shipping loose boxes or unpackaged cargo must clearly label all components in their shipment.
A few elements that should be on shipping labels include:
The address and telephone number of the shipper
The address and telephone number of the consignee
Information about special handling needed for fragile items (such as labels that say: do not stack, fragile, this side up, or handle with care)
The shipping date
Package the LTL shipment correctly.
While packaging depends on the shipment, crating and palletizing are the two primary options. There are cases where shippers use both, as crates can be stored on pallets and stacked for efficiency. Crates and pallets are useful for maximizing capacity and helpful in preventing damage or loss to shipments. Crating or palletizing cargo will prevent bumps and drops, which can cause severe damage.
Palletizing
There are advantages to palletizing individual units when shipping LTL. Pallets can help lower shipping expenditures on LTL freight because a pallet is regarded as a single item rather than regarded as the singular packages on a pallet. Also, pallets have a flat-bottom deck that allows them to be stacked on top of each other and unloaded efficiently. Finally, pallets are also easy to store in the interim.
Shippers must ensure that they choose pallets that are good quality and are unlikely to break during transit. Pallets should be made of wood, not plastic, and covered with a good deck of sturdy boards. They should also be free of protruding nails.
Once a shipper has chosen their pallets, they must be sure to stack their items on the pallets properly. Improper stacking increases the chance of cargo coming undone and weakens the integrity of cardboard boxes. Shippers should place heavy items on the bottom of the pallet, and lighter items should go on top. Shippers should stack boxes on the pallet lined up corner-to-corner with no overhang. It's okay to stack boxes near the edge of a pallet, but boxes cannot extend over the edge. Overhang makes boxes vulnerable to damage.
Crating
Crates have four walls and a floor, so they are best for holding smaller goods that need to be safely secured. Crating is a flexible option because they can be built to accommodate standard and non-standard dimensions and are suitable for fragile items.
Crates must be built so that slats are close enough to protect the contents and prevent any items from protruding outward. Strengthening crates with additional supports will further protect a shipment from damage.
When crating goods, keep fragile and non-fragile items separate to minimize possible damage in transit. Shippers must wrap fragile items in protective material, pack their crates as full as possible, and block or brace movable items to reduce the possibility of shifting.
Wrapping
Wrapping a fully-stacked pallet or crate using stretch wrap is the best way to ensure that a shipment remains as secure as possible during transit. Depending on the load's weight, shippers can use metal, plastic, or nylon to wrap their cargo.
When wrapping pallets or crates, shippers should:
Utilize cushioning material of about 2 inches.
Select a wrap of at least 60 gauge.
Ensure that a minimum of 5 revolutions around the pallet to secure the freight to the pallet.
Make sure wrapping is as tight as possible.
Use a band or strap to secure a shipment to a pallet.