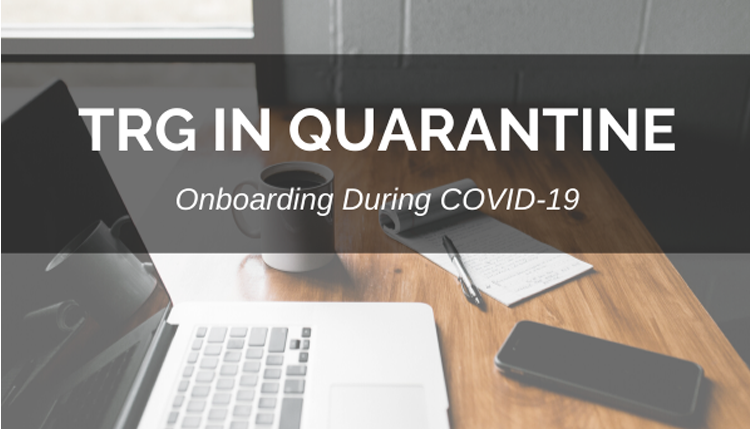 TRG in Quarantine – Onboarding During COVID-19
Entering into a career path after graduating from college is overwhelming enough for most new grads, but beginning a career path during the COVID-19 global crisis is a whole other story.
My name is Haley Mummert, and I am completing my bachelor of science and onboarding at TRG during COVID-19. I feel fortunate to have the option to do it from my kitchen table.
When I began college in 2016 at Montana State University, I did not expect for my senior year to end in a pandemic. I did not expect my graduation ceremony to get canceled, nor did I expect to be unable to say goodbye to my classmates, professors, and the campus that I have grown fond of.
Lastly, I did not expect to be lucky enough to begin onboarding at TRG during COVID-19 from home while I finish the last of my (now) online college courses.
We're fortunate to live in a time that we can remain safe from a pandemic by staying home with our families and pets. My dog, Cruze, is enjoying the fact that I am home with her all the time, although she must think I got fired. As for my new co-workers, their children and pets are also getting used to them being at home. See how TRG works from home in our previous post.
While it is nice to be able to learn about and begin my new role from the comfort of my home, I can't help but feel like I'm missing out on the exciting new connections to be made with co-workers in the first couple weeks at the office. Of course, I don't mind being patient for the sake of our health. Having productive virtual meetings has been less of a challenge than I initially thought.
The Process of Onboarding at TRG During COVID-19
I was hired at Trade Risk Guaranty to be a Marketing Specialist. Onboarding at TRG from home consisted of extensive Microsoft Teams video chats, comfy sweatpants, and lots of coffee. I began my first day setting up my remote laptop and video chatting with HR. I also began educating myself about the world of international trade, customs bonds, and cargo insurance. Luckily for me, there is an extensive library of educational videos on TRG's YouTube channel.
On top of watching videos and reading recent articles, I video chatted for hours with my supervisor, Meredith. We used Microsoft Teams to go through slide shows that helped me learn more specifics about my role and TRG processes. By Friday, I finished onboarding training and began my new role. Work has begun and I feel prepared to take on the responsibilities given to me. Technology has provided us with an extensive amount of remote collaboration tools, and that is very fortunate for us.
Maintaining Connections in Quarantine
In this online world, it is easier than ever to stay connected. Video chat has become a lifesaving substitute for general human interaction. It is not quite the same as being in the same room as co-workers, friends, and family, but it is great to be able to see faces and have conversations while quarantine measures are in place.
Fortunately for those of us at TRG who live in Bozeman, we are in an optimal place to safely connect with the outdoors during this time of social distancing. Taking some time to enjoy the fresh air and spring weather has been essential for staying focused and carrying on with my responsibilities as a young adult.
The ability to continue working during a global crisis is something I will be sure not to take for granted since many are facing hardship during this time. My thoughts go out to those who are struggling to make ends meet during this crisis. My thoughts also go out to graduating students like me who are uncertain about their entry to the workforce.
I am eager to begin my journey at Trade Risk Guaranty. Although the times are tense and uncertain, I find security in working for a company that values passion, persistence, and perseverance.
Follow TRG for More Behind the Scenes
For regular peeks into the office life at Trade Risk Guaranty, follow us on Instagram below or like us on Facebook. We love to share what our employees are up to in and around the Bozeman area!