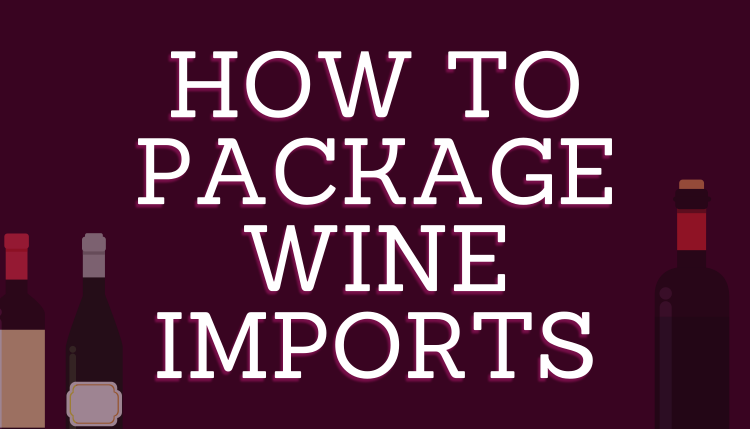 How to Package Wine Imports
If you're importing wine into the United States, it's essential to know how to carefully pack wine with protective packaging to avoid damage during transit.
Importing into the U.S. can be confusing for those that are new to it. Before selling their wine, importers need to understand their obligations in the import process and pack their product so that it is as safe as possible during transit.
Packaging Materials
To ensure the safety of your wine bottles, you must choose appropriately protective packing materials. Some materials to have on hand when you are packing include:
Cardboard boxes
Wrapping and packing materials, like paper or bubble wrap
Inserts to hold Bottles
Shipping tape
Polystyrene sheets
How To Pack Your Wine
Packing wine securely is a crucial step to ensure that it arrives safely at its destination. When you're ready to start shipping, this is how to pack your wine:
Step 1: Choose the Right Container
Select an appropriately sized corrugated shipping container that can handle heavy weight. The box should be large enough for your bottles and inserts to fit snugly inside. Shipping costs are based on package dimension and total weight, so choose a box that allows for proper packing without too much extra room.
Step 2: Wrap Bottles
Wrap bottles individually using bubble wrap, cartons, tissue, or other protective material to protect the bottles from any shocks while in transit.
Step 3: Pack Bottles
Put your wine bottles into a box, separating them using the appropriate inserts and cushioning materials. Place packaging material between the inserts and the box walls to eliminate empty space and limit movement. Put wine as close to the middle of the box as possible to minimize movement and prevent breakage.
Snug = secure.
Inserts to hold bottles can include a folded corrugated tray, molded fiber tray, or Expanded Polystyrene foam (EPS). Be sure that molded pulp or die-cut inserts fit snugly within the box.
Step 4: Seal the Box
Seal the package securely with a lot of shipping tape. Wine shipments are heavy, and you don't want bottles falling through the box if the tape doesn't hold. Seal the top and bottom of the box carefully to protect your product from damage.
Step 5: Pack and Seal Again
This step is optional but could be very important to ensure the safety of particularly expensive or large shipments of wine.
Seal the box and attach polystyrene sheets to the outside of it to act as a shock absorber. Then, place the box of wine into a larger box. Fill any spaces between the smaller and larger box with cushioning materials and seal the larger box with tape.
Step 6: Label the Box
Apply any required wine labels to the box. The label indicates that the contents must be signed for by an adult. The origin or destination may require additional labeling. Be sure to label the wine package with "fragile" or "handle with care" labels on the box's top and sides.
Other Considerations
Watch the weather and plan accordingly. The weather is one of the biggest challenges you'll face when shipping wine since extreme heat and cold can negatively affect it. Time your shipment to minimize extreme weather exposure. Ship wine at the beginning of the week to avoid exposure to overly hot or cold temperatures over the weekend while sitting in a sorting facility.
Marine Cargo insurance is essential for any wine importer so they can rest knowing that their product is protected while it is in transit between the point of origin and final destination. To learn more about marine cargo insurance with TRG, contact us today.