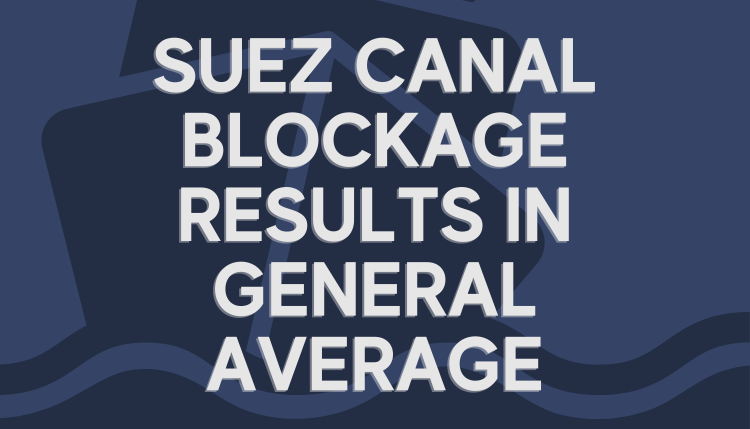 Suez Canal Blockage Results in General Average
The Suez Canal was blocked for six days between March 23rd and 29th, 2021, after the accidental grounding of a cargo ship known as the Ever Given. General average has officially been declared as a result of this event.
What Happened on the Suez Canal?
On the morning of March 23rd, 2021, strong winds and poor visibility wedged the cargo ship, Ever Given, across one of the Suez Canal's narrower areas. One end of the cargo ship was stuck at one side of the canal bank, and the other end was stuck close to the other side. This prevented other vessels from passing through that part of the canal.
The cargo ship blocked canal traffic, grinding maritime shipping to a halt at one of the world's busiest waterways. A fleet of tugboats, dredgers, and salvage crews worked for several days to refloat the ship. After a boost from a high tide reaching almost seven feet, they finally freed the vessel on the afternoon of March 29th, and traffic resumed.
During the six days the cargo ship remained stuck, more than 400 ships were stranded at the canal. It took five days to clear the backlog of ships waiting to cross. Authorities in Egypt could seek more than $1 billion in damages to cover the equipment used to free the ship, the 800 people who worked to free the ship, and Suez Canal revenue loss.
Why General Average was Declared on the Suez Canal Blockage
On April 1st, the owner of Ever Given declared that the Suez canal incident qualifies as a general average event. When general average is declared, all parties in a sea venture proportionally share any losses resulting from a voluntary sacrifice of part of the ship or cargo to save the whole in an emergency. These emergencies are unpredictable and can happen to any crew despite their level of experience on the sea.
A situation that can only be declared general average if the voyage was 'Preserved from Peril.' If the entire voyage is lost, general average would not be declared because the voyage was not preserved from peril. The Ever Given voyage was preserved, and all cargo was not lost, so general average is applicable.
General average ensures that a party who has suffered some extraordinary expenditure or loss to save property belonging to others has the right of compensation for its loss from all parties that benefitted from that voyage.
General Average Claims Process
To begin the general average claims process, the total general average claim value will be configured by an adjuster. This will include all expenses that went into the effort to save the ship from peril. To calculate how much each party must contribute, the adjuster will look at the voyage's total value and the percentage of value belonging to each party. Those percentages will then be applied to the general average Claim Value. The resulting amounts are the general average contributions owed by each party involved in the voyage.
What to Consider
General average claims can take multiple years to finalize. The size of the Ever Given and the large number of cargo owners involved will likely make the general average process lengthy and complicated. However, cargo owners will not have to wait until the adjustment is complete to get their cargo. Cargo owners will be able to pay a general average guaranty to release their cargo well before the adjustment is complete.
If you had cargo on the Ever Given, keep an eye out for general average requirements from your freight forwarder. As soon as you have instructions, contact your insurer to have your general average guaranty processed so your cargo can be released. For more info on this process, see our general average webinar on YouTube.
Due to so much trade being delayed, there are likely to be product shortages, especially for just-in-time supply chains. If you plan to source domestically to make up the shortfall, make sure you communicate with your insurer about changes in how you are shipping.
There is likely to be a shortage of containers available for new shipments until bottlenecks are resolved. Make sure you have made arrangements for storing your cargo as it waits for a container, and always check with your insurer about storage coverage.
Marine Cargo Insurance
General average situations can have a drastic effect on importers, and it is difficult to predict when one will arise. There is no practical way to initially determine what cargo will be jettisoned or sacrificed if a general average occurs, nor is there a way to guess when and where disaster will occur.
If you are shipping goods via an ocean vessel, you are a party on in that sea venture and are, therefore, at risk of a general average claim. Marine cargo insurance will typically cover the general average guaranty to release cargo and other fees associated with the general average.
If a cargo owner has no cargo insurance in place, they will need to submit a cash deposit to cover their general average guaranty. A general average guaranty is separate from a claim for any lost cargo. A general average claim can be a significant and unexpected expense for those shipping goods, so it is best to get marine cargo insurance coverage to be prepared for disasters at sea.
Learn more about marine cargo insurance from Trade Risk Guaranty.