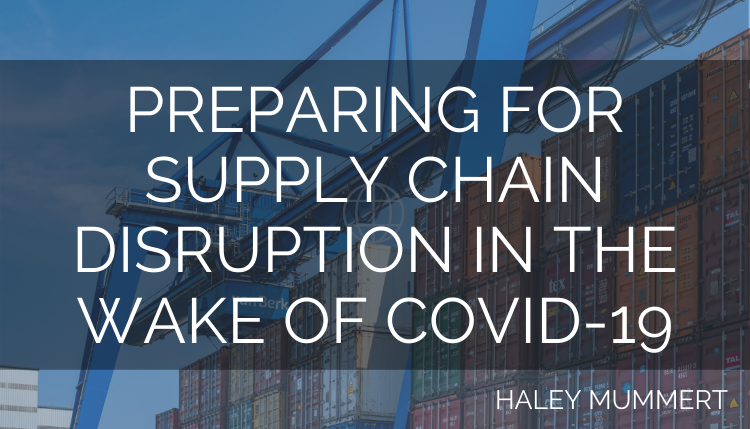 Preparing for Supply Chain Disruption in the Wake of COVID-19
While imports of medical supplies and other essential health items are sharply increasing, orders for merchandise imports as a whole are being canceled, slowed down, or sent to warehouses for storage. As a result, importers have been strategically planning for supply chain disruption.
It is likely we will experience supply chain disruption through the second half of 2020. According to a Global Port Tracker report, May and June are when we can expect the most substantial decrease in imports to occur. The report estimates that declines in shipments of both consumer merchandise and manufacturing inputs will continue into the second half of the year. The report also projects that U.S. imports will decline by 20.1% in May, 21.4% in June, 18.2% in July, and 12.5% in August.
A decline in imports of consumer merchandise and manufacturing inputs will have a significant impact on the U.S. economy and individual organizations across America. U.S. importers must have a strategic plan to adapt to this new environment. It is crucial to convey initiatives with suppliers, distributors, stakeholders, employees, and consumers using consistent messaging and effective communication.
U.S. importers need to keep messaging clear and consistent when communicating the impact of the COVID-19 pandemic has had on their business. An honest assessment of what the company can do is essential, as is the recognition that some things will be outside of the company's control. The main message is that the organization is doing all it can, and we're all in this together. It is also vital that those within the organization keep communication flowing in both directions since effectively tracking risks requires the help of the broader community within a company.
Aside from clear messaging and effective communication, U.S. importers must also prepare for potential supply chain disruption and legal risk.
Preparing for Supply Chain Disruption
U.S. imports from Asia in March fell to the lowest level in seven years. Manufacturers and retailers are pulling back on orders of non-essential merchandise and inputs amid plunging consumer demand and factory closures caused by COVID-19. This pull-back is just one piece of the supply chain disruption that is occurring as a result of the pandemic.
Companies need to have detailed logistical plans in place to compensate for shortages and delays. Developing an agile approach to anticipated problems will increase in importance as the global economy adjusts to the new reality. The full effects of COVID-19 on supply chain distribution are challenging to model and assess at this time since we are still in the middle of it. However, global businesses can begin to mitigate supply chain distributions by taking a few key steps:
Establish a Plan with Shipping Partners
Establishing a plan with shipping partners might not offset the cost increase. However, it can create space in the budget for it. Additionally, locating alternative routes and carriers ahead of time can allow companies to circumvent delays entirely.
Identify Alternative Supply Chain Scenarios
It is crucial to have a diverse supply source so that when one supplier faces an impact, you can turn to the other. Companies that presently rely on one supplier in COVID-19-affected areas in China face the most significant challenges. Good supply chain practice consists of several suppliers in different countries and geographies. This practice minimizes the risk of disruptions that are likely to increase in the future, whether they are related to a pandemic, climate change, or other global phenomena.
Activate Pre-Approved Parts or Raw-Material Substitutions
Activating pre-approved parts or raw-material substitutions when a primary supplier faces disruption might be essential to keep your supply chain running efficiently. Importers can also enable product redesign or material certification resources where reliable second sources of parts or raw material are not already available.
Adapt Allocations to Customers and Pricing Strategies
It is critical to decide on the right pricing approach during the crisis. In general, most retailers are not increasing prices in response to increased demand. Still, they are reducing their margins to serve their customers better. Raising price can lead to inferior customer perception, widespread negative media coverage, and government fines.
Secure a Marine Cargo Insurance Policy
Marine cargo insurance covers the loss, damage, or theft of commodities while in transit. Different types of marine cargo insurance coverage are available for U.S. importers.

Losses occur during transport daily due to a wide variety of reasons, so importers should have proper coverage for their business to minimize their losses in the case of an incident. Most shipping insurance policies from suppliers and shipping companies do not cover much damage. How would it affect your company to lose the value of an entire shipment? Call TRG today and get a free Marine Cargo Insurance quote.

Prepare for Legal Risk
Importers should update their force majeure and dispute resolution clauses. It is a great time to update one's force majeure clause to assure coverage for common problems in the event of a global pandemic or similar circumstances.

A dispute resolution clause determines whether you can effectively enforce your rights. In contracts where you are the supplier but rely on a sub-supplier, agree on a compatible dispute resolution clause. Doing this will enable you to resolve virus-related supply disputes under both contracts in a single legal proceeding.

Be Practical
While dealing with supply chain disruption results in tension and dissatisfaction, it is critical to negotiate with suppliers practically. Keep in mind that business relationships will need to continue after the disruption passes. Look for negotiated resolutions such as price or timing adjustments modified to account for the interruption and any changed circumstances. Also, consider whether it is possible to take over sub-contracts or use alternative options. Consider whether an insurance claim is available either by you or by your counterparty for your benefit.
Stay Informed
During this extremely fluid time, importers must stay updated on the impact of COVID-19 on international trade to remain aware of how they could be affected. Keep current with the global trade climate; Follow TRG on LinkedIn.