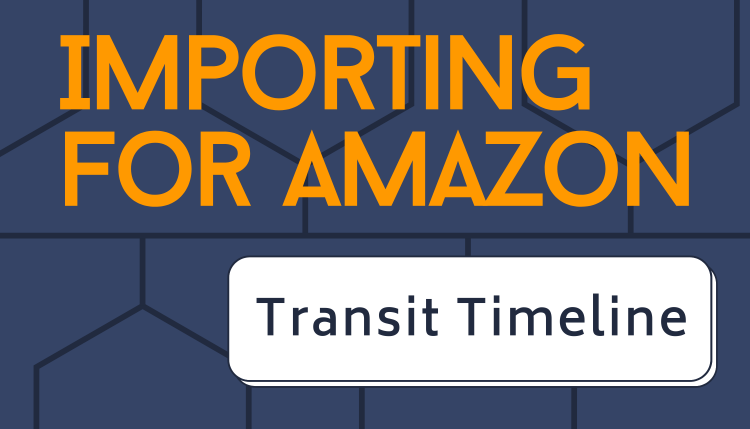 Importing for Amazon | Transit Timeline
If you import goods into the United States to be sent straight to an Amazon fulfillment center, the transit timeline can differ based on various factors.
Amazon Marketplace is an excellent place for importers seeking a hands-off final delivery process for their merchandise. FBA sellers can import their products, send them directly to an Amazon warehouse, and fulfill customer orders without seeing or touching shipments. The timeline of this process depends on how the shipper decides to pack and send the merchandise, and how prepared they are for the process.
Shipping Method
When importing FBA products for Amazon, FBA sellers must choose to ship products from the supplier using air freight or ocean freight.
When choosing between these methods, you will need to determine what is best for your particular product. It would be best if you considered how much product you're shipping, how quickly you need it to reach its destination, and how much you're willing to spend to get it there.
Ocean freight is typically cheaper and generally takes between 20 to 45 days. Ocean freight is the most cost-effective method for large shipments. Using this method is much slower but
is suitable for products that don't need to be rushed.
Using air freight is faster but significantly more expensive. Air freight is ideal for lighter, smaller shipments and can be delivered as quickly as 3 days but could take up to 15 days.
Shipping Timeline
Aside from shipping method, factors like shipping FCL vs. LCL and preparedness when goods enter the U.S. port can affect how long it will take to transport your goods. It is essential to have all Customs entry requirements accounted for before your goods arrive in the U.S.
Shippers must also be sure to schedule an appointment with the FBA warehouse they will send their goods to before arrival. If merchandise was not packed to meet Amazon's requirements, shippers will need to schedule their goods to be packed accordingly at a freight station before being sent to Amazon's warehouse. Amazon is likely to reject goods that are not packaged correctly for warehouse storage.
Click the image below to download the infographic as a PDF.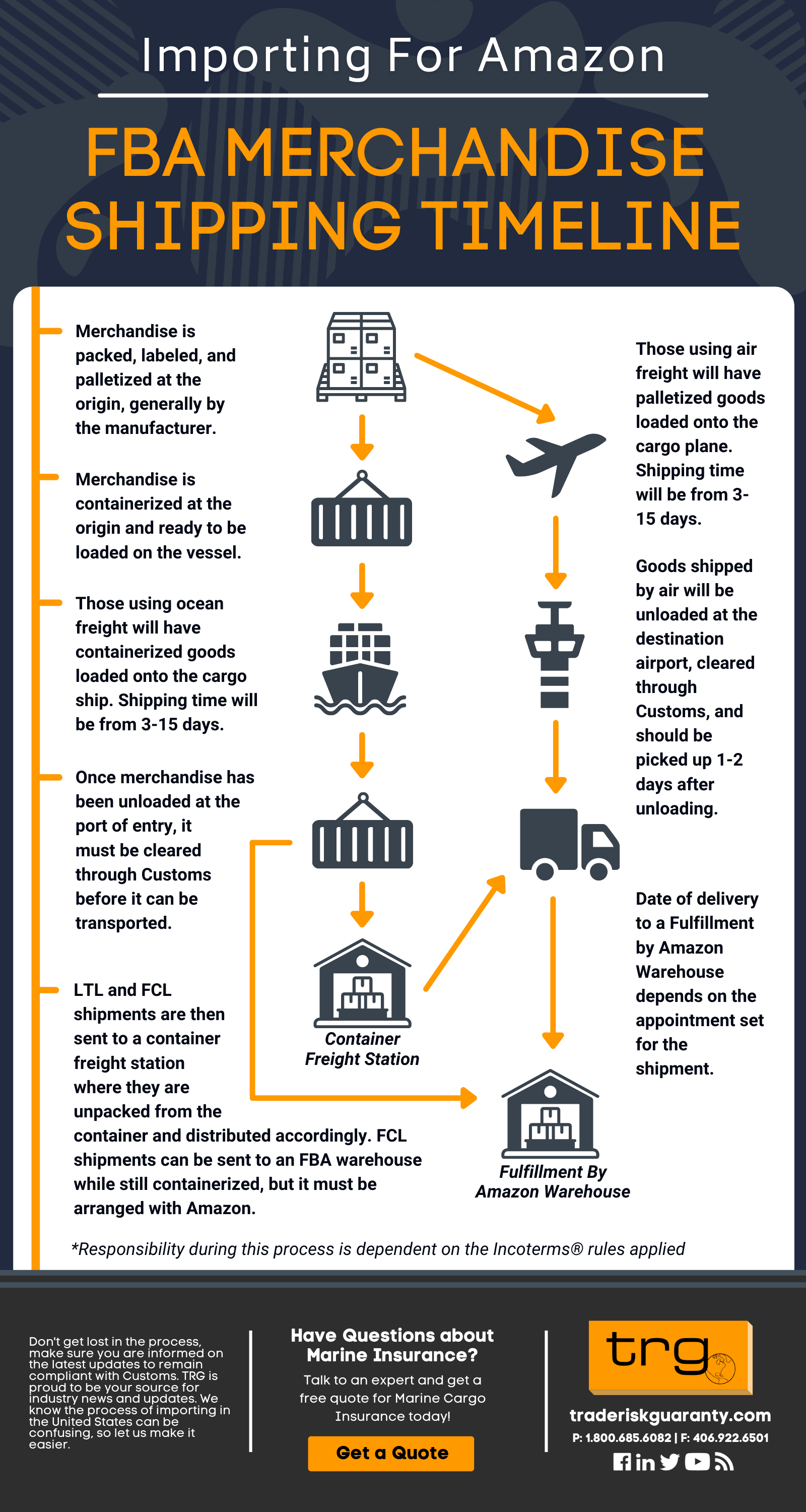 As an importer of Fulfilled By Amazon (FBA) products, you will be responsible for making arrangements to have your goods shipped to the United States, cleared through U.S. Customs and Border Protection (CBP), and sent to their final destination, all while meeting Amazon's regulations. Along with this responsibility comes the importance of your products being insured while in transit.
When shipping internationally, damage is always possible. Annual worldwide ocean cargo losses generally exceed $2.4 billion each year. Mishandling of cargo while loading or unloading, weather conditions, water damage, and piracy are common reasons for damage.
Marine Cargo Insurance covers the loss, damage, or theft of commodities while in transit between the point of origin and final destination. This is also known as shipping insurance or freight insurance.
Find out more about marine cargo insurance from TRG.