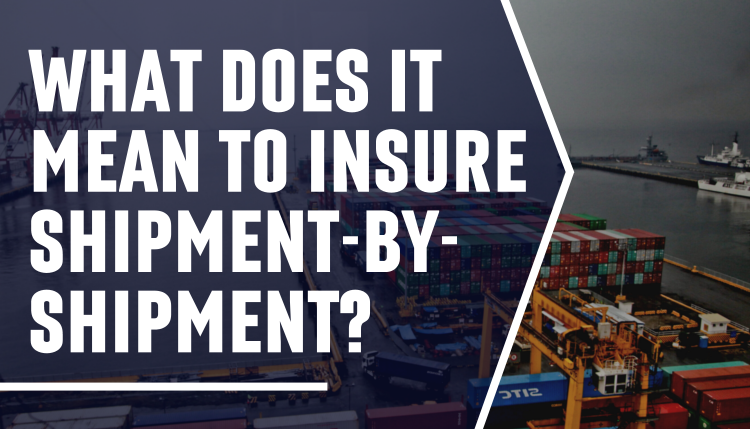 What Does it Mean to Insure Shipment-By-Shipment?
When choosing a cargo insurance policy, it's essential to look closely at cost and coverage in order to choose the one that is the best fit. Those who rarely ship may financially benefit from shipment-by-shipment cargo insurance, but it is wise to consider the benefits of an annual policy.
Shipment-By-Shipment Cargo Insurance Policies
Shipment-by-shipment cargo insurance only covers a single shipment at a time and is likely to be more expensive than other types of cargo insurance. However, those who export infrequently may see savings when insuring shipment-by-shipment.
Shipment-by-shipment insurance coverage is generally available through the Freight Forwarder shipping the goods. Customs brokers may offer this coverage as well. Freight Forwarders and brokers have an open policy that they can add shippers to for a single shipment. These insurance rates are higher than usual because a freight forwarder or broker purchases their insurance and then marks up the price on your invoice, which results in generally higher rates than an annual policy.
Importers that ship goods frequently and purchase shipment-by-shipment insurance are most likely overpaying. They are typically paying between $0.30 & $0.60 per $100.00 of cargo. This is caused by the fact that importers are buying the freight forwarder or Custom broker's policy, not their own.
There are also certain exclusions on the policy when using shipment-by-shipment coverage. Most broker or freight forwarder policies have limited insurance terms rather than all-risk coverage. Their policy is not designed for your specific shipping insurance needs. Those insuring their goods shipment-by-shipment are most likely not covered for the following:
Acts of God (heavy weather, earthquake, lightning, etc.)
Acts of war (strikes, riots or civil commotions)
Latent defects in the hull or machinery
Criminal acts or negligence by the master or crew
Unseaworthiness of the vessel
Many importers prefer Shipment-by-shipment coverage at first because it allows them to pay for only what they consume, and they can easily calculate the exact direct expense for each shipment. These importers hesitate to secure an annual policy since it will be more difficult to calculate how much their insurance cost is for each individual shipment.
However, there is typically an overall cost saving with an annual policy for higher volume shippers. They can eliminate monthly reporting and labor associated with insuring shipment-by-shipment by securing an annual policy. This is a result of the fact that the rates, terms, and conditions will all be pre-negotiated.
The Benefits of All-Risk Annual Cargo Insurance Policies
Annual coverage is likely to be the most cost-effective for the majority of importers. Rather than securing one policy per shipment, you can get an annual cargo insurance policy that automatically covers all shipments you send within the year. An annual open cargo policy automatically insures your shipments on set terms, conditions, and rates without the need to contact an insurance broker or company each time an importer has a shipment.
Payments for an annual policy only occur once a year, remain on file for that entire year, and are exceptionally easy for importers to manage. These policies generally have lower premiums and less paperwork, which makes the claims process more manageable.
An annual all-risk cargo insurance policy will cover any physical loss or damage from any external cause. These policies will list any exclusions that are not covered, but coverage for those exclusions can be added to the policy as an additional clause. Coverage will include collisions with external objects, jettison, train derailment, truck overturning, deliberate destruction, improper stowage by ship owners, theft, war, terrorism, and acts of God. Other benefits of an annual policy with Trade Risk Guaranty include:
Asset protection
General Average guarantee
Control over claims
Local representation
Automatic & continuous coverage
No monthly reporting!
Many deductible options
Point of origin to final destination coverage
Aggressive claims handling
Premier Policy Enhancement Clauses
An annual policy provides peace of mind because importers know that while their goods are in transit, their maximum financial loss is limited to their deductible.
In most cases, the more volume you have, the less the policy costs per hundred dollars that you ship. TRG aggregates all of your shipments onto one policy so that we can offer significantly reduced rates. It varies, but depending on your shipments, that could be as low as 2-3 cents per hundred dollars that you ship or as high as 15-20 cents.
TRG can customize an annual, all-risk cargo insurance policy specific to any company's commodities and distribution channel. Every supply chain is unique. We have extensive experience in underwriting insurance for your industry and its attributed risks.
Minimize hassle and get the best bang for your buck by thinking ahead, not on a shipment by shipment basis. Find out how much you can save each year by switching to an annual policy through TRG. Our underwriters are ready to sharpen their pencils to earn your business.