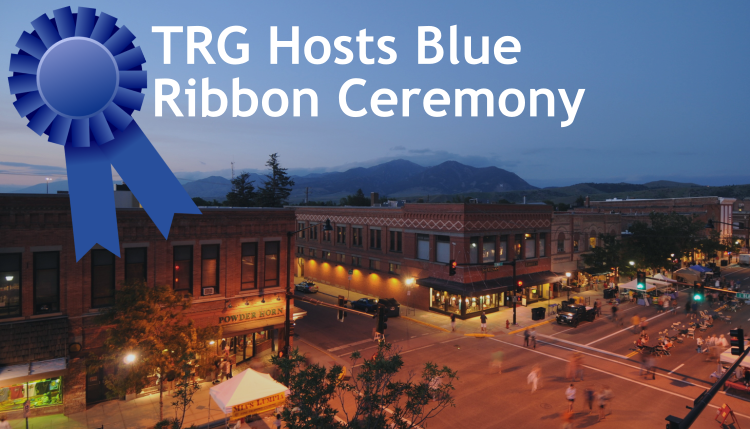 Trade Risk Guaranty (TRG) Celebrates Blue Ribbon Cutting Event
Bozeman, MT, February 28, 2011 — Trade Risk Guaranty (TRG) joined the Bozeman Chamber of Commerce and recently officialized their membership by hosting the company's Blue Ribbon Cutting ceremony at TRG's Main Street office in Bozeman, Montana. TRG has become very involved with the Chamber and all the services they offer over the course of recent months. In fact, many members of the TRG staff regularly attend Chamber events, such as Business After Hours, where they have the opportunity to network with other Bozeman Chamber members and local business owners.
The Blue Ribbon Cutting ceremony consisted of the cutting of the ribbon along with a speech given by TRG founder John Michel followed by a letter from Senator Baucus presented by Brianne Dugan. TRG offered hors d'oeuvres and beverages to their guests during the social networking hour that concluded the event. In attendance for the Ribbon Cutting ceremony were the TRG staff, members of the Bozeman Chamber of Commerce, and local business owners from the Bozeman area.
TRG and the Bozeman Chamber of Commerce
This is just the beginning of TRG's involvement with the Chamber of Commerce. The Chamber offers many great ways to become involved with the Bozeman community along with connecting with other local members of the Chamber and other Bozeman business owners. In addition, the Chamber offers some great resources in regards to marketing TRG to the community and aiding in the assistance of finding new members to join TRG's ever-growing staff.
Look through TRG's current job openings in downtown Bozeman, MT and see how you can join the team!
TRG is excited to become further ingrained in the way of life in Bozeman and the community of the town. Our employees take pride in living in this unique location and taking advantage of the many outdoor activities availble locally.