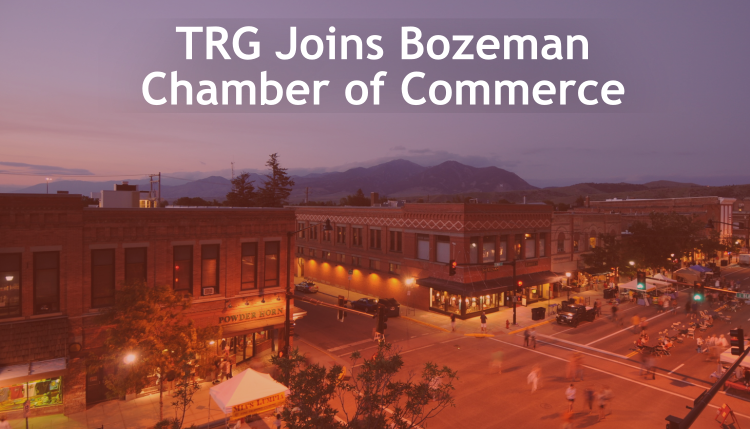 TRG Teams up with the Bozeman Chamber of Commerce to Find Talented Sales Reps
The Bozeman Chamber of Commerce offers local business owners networking opportunities and a place to become active participants in the Bozeman community. TRG, a new local business in Bozeman, has officially become a silver member of the chamber.
Unique to Bozeman, TRG's products do not cater to the needs of most local businesses and consumers. TRG offers trade facilitation products to U.S. importers via electronic communication. With the vast majority of the company's market residing on the east and west coasts, the name TRG is rarely seen or heard in Bozeman. Functioning primarily as a sales and marketing office, the company is located in downtown Bozeman and is continually offering employment opportunities to the community.
TRG Participates in the Bozeman Community
Aside from the Chamber of Commerce, TRG is actively involved with student functions at Montana State University – Bozeman. TRG attends 1–2 career fairs at MSU each year and over 60% of TRG's employees are graduates of Bozeman's MSU. TRG recently sent Gregg Cummings, National Sales Manager, to campus, who spoke with students in a Professional Selling Business course about the skills needed to build a successful career in sales. TRG's marketing department participated in a semester-long business course allowing students to receive hands-on consulting experience.
Bozeman Community members engaged with TRG employees as they distributed information about job opportunities at the MSU Pep Rally and Homecoming Parade this October.
"We have spent a lot of time and money trying to find the best way to inform people about our excellent employment opportunities, but we continue to struggle to find candidates exhibiting the caliber of talent we expect from Bozeman,"
– Jena Leary, Marketing Director
About TRG
Now located at 140 East Main Street, Suite G, Bozeman, MT, TRG is an international surety agency providing Customs bonds, marine cargo insurance, and other trade-related products direct to companies that import into the United States.
In April 2009; Bozeman, Montana became home to Trade Risk Guaranty, the leading direct supplier of International Trade products. Over one year after joining the Bozeman community, TRG is pushing forward with a local campaign to increase the community's awareness of our company in order to attract top-level sales representatives. TRG expects our new membership with the Bozeman Chamber of Commerce to aid in greater community-wide exposure.